Concert Review: Metallica puts on 2-night spectacle at The Dome at America's Center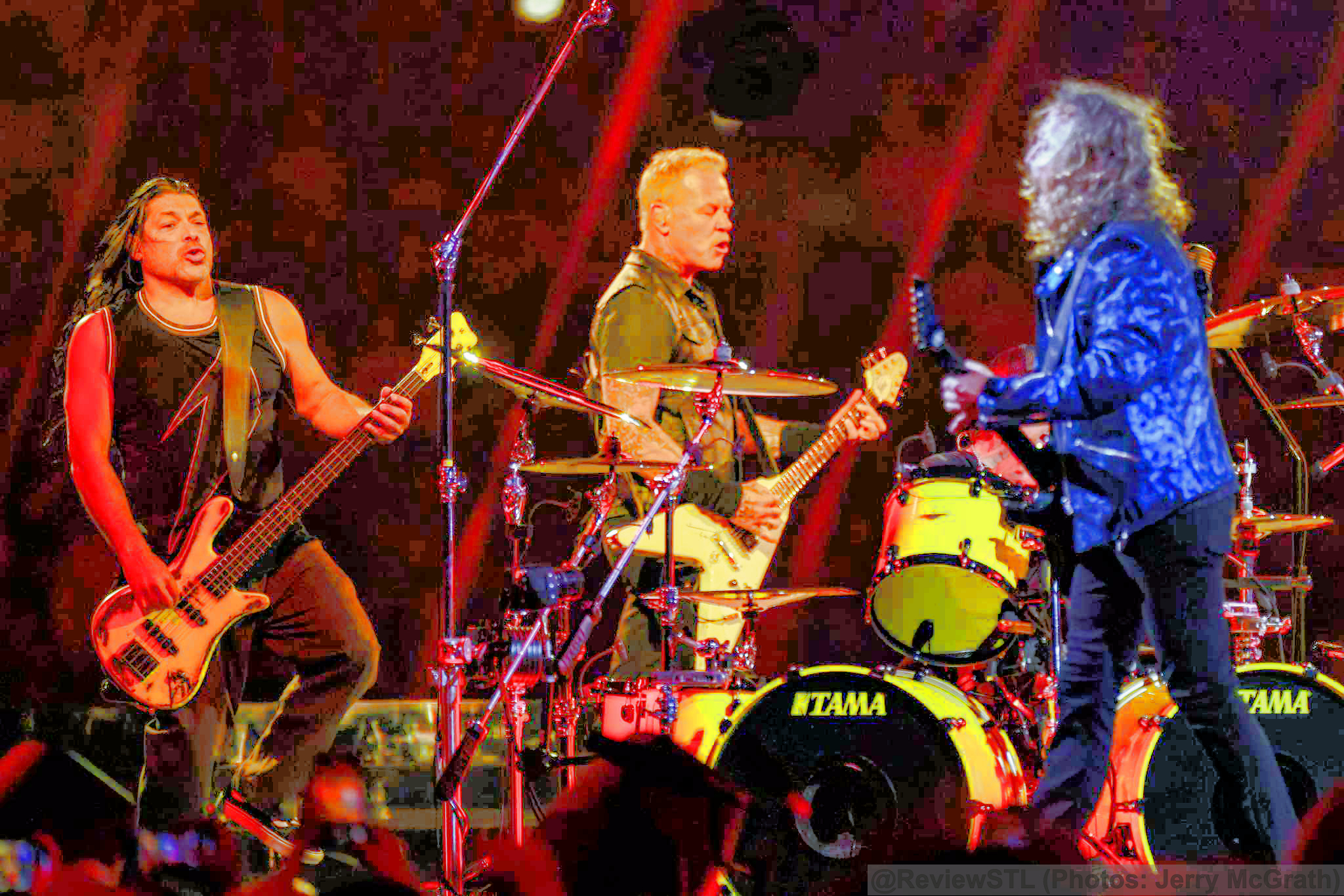 The Mighty Metallica took over St. Louis this weekend.
Not only did the band perform two different sets on Friday and Sunday, but there were activities all over the city for fans to enjoy.
Along with the show on Friday and Sunday, fans could bowl with the band's roadies on Saturday, meet James Hetfield on Saturday at Left Bank Books, catch a Metallica movie at the Hi-Pointe or even do a whiskey tasting with Master Distiller Rob Dietrich. However, Friday and Sunday is where the real action went down.
On Friday, Metallica was joined by MammothWVH and Pantera.
MammothWVH, fronted by Wolfgang Van Halen, son of legendary musician Eddie Van Halen, opened the show. The band was quite impressive, performing a set that wasn't near as heavy as Pantera, but was a welcomed opener to get people primed and ready for the heaviness that Pantera delivered.
I had my reservations about the reunion of Pantera, but it's safe to say my concerns were crushed by the heavy metal legends. Frontman Phil Anselmo graced the stage in shorts, a cutoff tee and worked the entire stage barefoot. Anselmo was fun and sounded better than he has in decades. Bassist Rex brown was also on point, but the highlight of their show had to be guitarist Zakk Wylde and Charlie Benante. Both men had huge shoes to fill, as they are filling in for the Abbot Brothers. Both musicians filled in nicely for Dimebag and Vinnie, which made the band's performance that much more special for fans. I was actually concerned that Pantera may have stole the show from Metallica, but the metal band that's been going strong for 40-plus years, showed they can still bring it.
Frontman James Hetfield still sounds amazing and Lars Ulrich is always steady on the drums. Krik Hammett, guitar, and Robert Trujillo, bass, work the stage like no other.
Metallica is one of those rare bands whose music transcends generations. Hetfield is one of those rare frontmen who is able to connect with the audience. This is what elevates Metallica above other bands. From songs like 'Fade to Black,' 'Nothing Else Matters,' and 'Master of Puppets, the band can be as heavy as any band out there or quickly slow it down, while still having that edge that their fans love.
Metallica played for nearly 2 hours Friday night, as 63,000-plus were on their feet nearly the entire time. The band dug deep into their catalog of songs, pulling out songs like 'Creeping Death' and the heavy classic 'Harvester of Sorrow.'
After 40-years of going strong, and a new album, 72-Seasons, it's clear that the band isn't planning on slowing down anytime soon. Fans definitely got a special show each night over the weekend, and hopefully the band isn't ready to hang it up, although, one couldn't fault the guys for riding off into the sunset after such a successful tour. In fact, after seeing this show, I'd have to compare it to the ultra-successful tour of Taylor Swift. Two completely different genre's and fanbases, but both fanbases have the same passion for the artists, and both acts seem to love their fans just as much. In other words, Metallica's 72 Seasons Tour is the Era's Tour for metal fans. It's a must-see. Who knows, maybe we will get a movie about the tour. That would be pretty cool.
Metallica, Pantera and MammothWVH get an A.
Check out our photos from the show by Jerry McGrath. More photos to come tomorrow of Pantera and MammothWVH.