Comic-Con 2011: What We Have Learned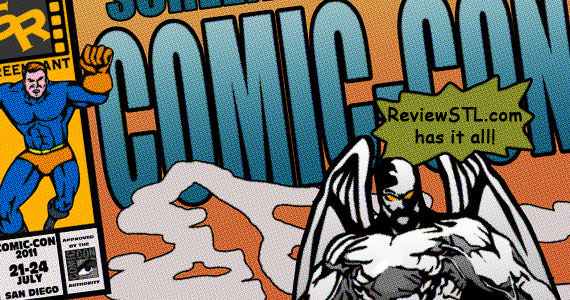 Aside from all the hype about Comic-Con for all of last week, we have learned quite a bit from the nerdiest meeting point on the planet! As much as I wish I could have been there (as I do every year), there were a lot of things discussed and leaked over the Internet that we were able to find out.  So I am going to try and start from the beginning. There may be some spoiler stuff about some of the movies, but nothing too exponential, so no worries.
The first, and possibly most up and coming SCI-FI film (didn't wanna dig myself a whole there) I will talk about hitting the screen next summer is Ridley Scott's upcoming film Prometheus, which is heard to be the prequel to the Alien films.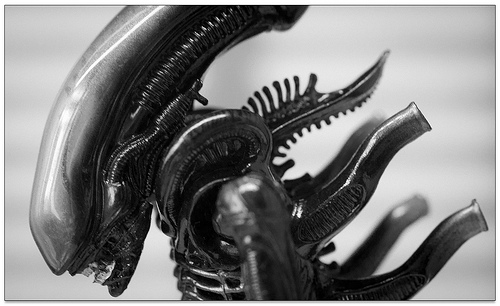 Of course it is going to be in 3D however as the panel said (made up of writer Damon Lindelof and Charlize Theron) 'Ridley Scott knows how he wants it and it's gonna be great.' The real question is: Will Russell Crowe make an appearance since it's a Ridley Scott film?? (ha ha just kidding – but seriously, he's in almost all his movies).
A synopsis of the movie was said to be released less than a month ago.  Apparently, the film takes a team of scientists and explorers on a thrilling journey that will test their physical and mental limits and strand them on a distant world, where they will discover the answers to our most profound questions and to life's ultimate mystery. The film stars Michael Fassbender, Noomi Rapace, Charlize Theron, and Idris Elba.
Prometheus will hit theaters in 3D on June 8, 2012.
…….
The next topic that is yet another comic book movie coming out sometime in the next 2-3 years. At the presentation of Attack on the Block, a fan asked Edgar Wright and Joe Cornish a question about the progress of an Ant-Man film.  A couple years back, they were set to do the film however conflicting schedules and meeting times led them to part ways and not discuss the film. More recently they said they have handed in a script and waiting for the studio to approve it.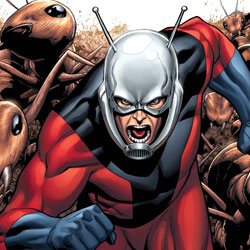 "We're very excited about it. We really enjoy working on the concept art."
With The Avengers coming out next summer, the struggle is setting a release date for the film to be released. Most likely on-coming will be Thor 2 and Iron Man 3, set to come along in 2013 (not official – but predicting) that will limit the promotion of Ant-Man. However, Marvel Studios still has other rumored projects that they might begin to set in (S.H.E.I.L.D. or Dr. Strange – but who knows).
…….
The last thing was Hugh Jackman making a surprise appearance for the upcoming "Rock-Em, Sock-Em Robot" film Real Steel (which is a cool concept). Of course he was asked questions about the new film, however there were a couple questions about the The Wolverine flick, hoping to come out soon.
The biggest part of the questionnaire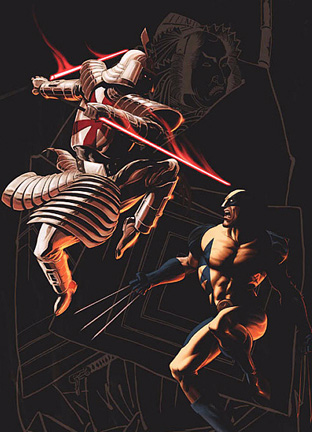 was when someone asked who the villain was going to be in the latest film.  With James Mangold at the helm instead of Darren Aronofsky (who dropped out of directing), it still promises to be a better film than the first installment.
However going back to the question, Hugh Jackman stated that the Silver Samurai will be the next villain in the new Wolverine film.  The Silver Samurai has been an important character in the world of Wolverine.
Although no one is cast to be the Silver Samurai as of right now (maybe Ken Watanabe – Inception – But that is just wishful thinking), however it is going to be interesting to see how the film pans out and how it will match up to the X-Men Origins: Wolverine.
There is no set release date, however it hopefully will be released sometime in 2012, but I guess we will see.
…….
Along with other things discussed, such as the new Jason Bourne franchise, The Bourne Legacy, which wont have Matt Damon in it; Francis Ford Coppola's Twixt and more talks about a Voltron film that was announced (but not taken seriously). More topics included television shows like True Blood or Dexter. The full schedule was available by ReviewSTL.com as well.
Once again this was just the brief summary and the most intriguing topics at Comic-Con (according to me). But for the full scoop, please go to their Comic-Con's Website.
What have you heard about Comic-Con?!?!
Let us know! Comment below!!