'Comic-Con 2011' Day-to-Day Schedule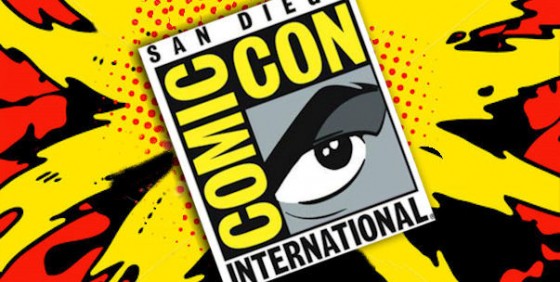 Comic-Con starts TODAY in San Diego, Calif., with a "Preview Night" and will run through the weekend, ending on Sunday.  The event that draws more than 100,000 people a year and is ready to make a big impact on not only the comic world but entertainment world as well.
The below schedule is strictly for Hall H, which primarily is the most popular ballroom at Comic-Con: San Diego. However there are other cool events occurring, so check out the FULL SCHEDULE
WEDNESDAY, July 20th:
6:00-9:00 Special Sneak Peek Pilot Screenings – The night before Comic-Con kicks off, Warner Bros. and Comic-Con screen pilot episodes of upcoming TV series. This year's offerings are "Alcatraz," "The Secret Circle," "Person of Interest" and "Supernatural: The Anime Series."
In the famous "Hall H" the schedule is as follows:
THURSDAY, July 21st:
11:15 a.m.-12:15 p.m. The Twilight Saga: Breaking Dawn — Part 1 – Summit Entertainment presents a sneak peek at the highly anticipated next chapter of The Twilight Saga. This is a must see for fans interested in the story's final chapters. You'll see exclusive footage from The Twilight Saga Breaking Dawn Part 1 and be treated to a filmmaker and cast Q&A session providing details on the first half of the epic two-part finale.
12:45-1:45 Animation Showcase— Sony Pictures Animation plunges Hall H into a 3-D animation universe with previews of upcoming films with Aardman, the home studio of Wallace and Gromit, as they make their first trip across the pond to Comic-Con to present a first look at two of their upcoming animated feature films:
Arthur Christmas — The 3-D, CG-animated family comedy Arthur Christmas, an Aardman production for Sony Pictures Animation, at last reveals the incredible, never-before seen answer to every child's question: "So how does Santa deliver all those presents in one night?" Producer Peter Lord and co-writer Peter Baynham discuss the animated film.
The Pirates! Band of Misfits — In the 3-D, stop motion-animated The Pirates! Band of Misfits, Hugh Grant, stars in his first animated role as the luxuriantly bearded Pirate Captain. Director/producer Peter Lord will be live on stage to talk about the movie.
2:00-3:00 FilmDistrict Studio Panel – FilmDistrict, the new studio that brought you Insidious, celebrates two upcoming features: Don't Be Afraid of the Dark and Drive. Exclusive footage will be presented and a Q&A will be held for both films.
3:15-4:30 20th Century Fox – At past Comic-Cons, 20th Century Fox has previewed Independence Day, X2, Avatar, and X-Men Origins: Wolverine. You won't want to miss the excitement this year, as Fox presents first-looks at some of its most-anticipated pictures of 2011 and 2012.
4:45-5:45 Robert Rodriguez's Quick Draw Productions— Be the first to get a sneak peek at Robert Rodriguez's upcoming films. Robert presents Quick Draw's new slate featuring special guest collaborators. He will also show exclusive material from his latest top-secret project.
6:00-7:00 Entertainment Weekly: The Visionaries: A discussion with Jon Favreau and Guillermo del Toro on the Future of Pop Culture— EW moderates an in-depth conversation with Jon Favreau (Ironman, Cowboys & Aliens) and Guillermo del Toro (Don't Be Afraid of the Dark), two filmmakers at the forefront of bringing geek culture to the masses and making blockbuster art out of pulp fiction.
FRIDAY, July 22nd:
11:00 a.m.- Noon Paramount: The Adventures of Tin-Tin – TBA
12:15-1:15 Relativity Media: Raven and Haywire – Two fantastic films from Relativity Media debut in this Hall H presentation.
Raven — The film is a gritty thriller in which Edgar Allan Poe joins forces with a young Baltimore detective to hunt down a mad serial killer who's using Poe's own works as the basis for a string of brutal murders. Stars John Cusack as Edgar Allan Poe, Luke Evans, and Alice Eve and is directed by James McTeigue.
Haywire — An electrifying tale of espionage and betrayal. A female covert ops specialist who works in the deadly world of international operatives strikes back after discovering she's been double-crossed by someone close to her in the agency. Mixed martial arts superstar Gina Carano makes her feature film — and Comic-Con — debut, starring and performing her own high-adrenaline stunts. Also appearing is director Stephen Soderbergh.
1:30-2:30 Screen Gems: Underworld 4 and Attack the Block – Screen Gems presents two big new movie previews to Comic-Con fans!
Underworld 4 brings a stunning new dimension to the epic battle between Vampires and Lycans as the first film in the franchise to shoot in 3D. Kate Beckinsale, star of the first two films, returns in her lead role as the vampire warrior Selene, who escapes imprisonment to find that humans have discovered the existence of both Vampire and Lycan clans and are conducting an all-out war to eradicate both immortal species. Appearing in person are Kate Beckinsale, Michael Ealy, Len Wiseman (producer and director of Underworld and Underworld: Evolution), and directors Mans Marlind and Bjorn Stein.
From the producers of Shaun of the Dead and Hot Fuzz comes Attack the Block follows a gang of tough inner-city kids who try to defend their turf against an invasion of savage alien creatures, turning a South London apartment complex into an extraterrestrial warzone. Appearing in person will be director Joe Cornish and producer Edgar Wright.
2:45-3:45 DreamWorks: Fright Night – Colin Farrell (The Way Back), Anton Yelchin (Star Trek), Christopher Mintz-Plasse (Superbad), Imogen Poots (Jane Eyre), Dave Franco (Charlie St. Cloud), director Craig Gillespie (Lars and the Real Girl), and screenwriter Marti Noxon (I Am Number Four) take the dais to give fans a taste of the horrific fun to come in DreamWorks Pictures' 3D reimagining of the classic horror film.
4:00-6:30 Sony – Sony returns to Hall H with a stellar lineup of films and talent, including:
Ghost Rider: Spirit of Vengeance — After blazing a trail around the globe in the worldwide hit Ghost Rider, Nicolas Cage returns as Johnny Blaze in Columbia Pictures' Ghost Rider-Spirit of Vengeance. Live on stage: directors Mark Neveldine and Brian Taylor (Crank) and stars Nicolas Cage, Idris Elba, and Johnny Whitworth.
30 Minutes or Less — From Ruben Fleischer, the director of Zombieland, comes the action comedy 30 Minutes or Less. Talent in attendance includes director Ruben Fleischer and stars Aziz Ansari, Nick Swardson, and Michael Peña.
Total Recall — Welcome to 'Rekall', the company that with one little implant can turn your dreams into real memories. For a factory worker named Doug Quaid (Colin Farrell), the mind-trip sounds like the perfect vacation from his ordinary existence. But when the procedure goes horribly wrong, Quaid becomes a hunted man. With the line between fantasy and reality blurred and the fate of his world hanging in the balance, Quaid goes on the run to discover his true identity, his true love, and his true fate. Based on Philip K. Dick's classic story "I Can Remember It for You Wholesale," this new take on some of his most visionary ideas is directed by Len Wiseman and stars Colin Farrell, Kate Beckinsale, Jessica Biel, Bryan Cranston, and John Cho, all of whom will be appearing.
The Amazing Spider-Man — The Amazing Spider-Man is back on the big screen, shot in 3D for the first time, and will be swinging into your neighborhood on July 3, 2012. Appearing in person are producers Avi Arad and Matt Tolmach, director Marc Webb, and our own Peter Parker and Gwen Stacy — Andrew Garfield and Emma Stone.
6:45-7:30 At the Drive-In – Come with us now to those thrilling days of yesteryear when one of the few places you could see some offbeat genre films and a slew of trailers was at your local Drive-In. We're trying something new at Comic-Con this year by giving some up and coming genre filmmakers an evening berth to preview their upcoming films.
SATURDAY, July 23rd:
11:45-12:45 TWIXT: Francis Ford Coppola and Dan Deacon – Legendary filmmaker Francis Ford Coppola and acclaimed musician Dan Deacon present sequences from Coppola's latest film.
1:00-2:00 Relativity Media: Immortals – Visionary director Tarsem Singh transports viewers in this epic tale of treachery, vengeance, and destiny in this stylish and visually spectacular 3D action adventure.
2:15-3:15 IndieVest Pictures: Knights of Badassdom
3:30-4:15 Universal Pictures: Snow White and the Huntsman – Universal Pictures is bringing the stars and filmmakers of its epic action-adventure film based on the script Snow White and the Huntsman to Comic-Con.
4:30-5:30 Further over the Rainbow: A First Look at Dorothy of Oz – Join the author and creator, Roger Baum (great grandson of L. Frank Baum), songwriter, producers, and various cast members of Summertime Entertainment's Dorothy of Oz, as they discuss the many angles of creating the anticipated new 2012 animated musical.
5:45-7:30 An Early Evening with Kevin Smith – You know Comic-Con is over for the night on Saturday when the fat man sings. Kevin Smith takes to the Hall H stage for his annual Q&A. Fair warning: he works bluer than Doctor Manhattan (though, unlike Doctor Manhattan, Smith will wear clothes for this performance).
SUNDAY, July 24th:
10:00-11:00 Glee – Creator/executive producer Ryan Murphy, creator/executive producer Brad Falchuk, and stars of Glee present a sneak peek at Glee The 3D Concert Movie featuring never-before-seen footage, behind-the-scenes secrets, and Q&A session.
11:15-12:15 Supernatural Screening and Q&A – For the first time ever, the Supernatural panel will be in Hall H! Series stars Jared Padalecki (Friday the 13th [2009]) and Jensen Ackles (My Bloody Valentine 3D)
12:30-1:30 BBC America's Doctor Who – Stars Matt Smith and Karen Gillan, along with writers and producers, make their first Comic-Con appearance for a panel and Q&A!
1:45-2:45 The Cleveland Show – The cast and executive producers offer a look at The Cleveland Show's not-to-be-missed parody of Die Hard, followed by a discussion with panelists
2:45-3:30 It's Always Sunny in Philadelphia – Join the hilarious cast — Rob McElhenney, Glenn Howerton, Charlie Day, Kaitlin Olson, and Danny DeVito — for a Q&A panel session.
3:30-4:00 Sons of Anarchy – Get an inside look into the world of FX's highest-rated series ever,
4:00-5:00 Buffy the Musical – Let's end this show with a bang! The powers that be behind Fandom Charities Inc. and Whedonopolis.com present a screening of the Buffy the Vampire Slayer musical episode "Once More With Feeling" as Comic-Con 2011′s big Hall H closing event!
For more information and other interesting events (not just in Hall H) go to the official Comic-Con Website
Come back next week for new information and the latest scoop on what we found out at Comic-Con!
Do you love Comin-Con as much as we do!?!?
Have you ever been to Comic-Con?!?!
Comment or Share your Experience BELOW!!