First Look at 'The Amazing Spider-Man' Trailer Starring Andrew Garfield, Emma Stone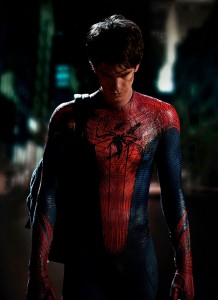 The moment that many have been waiting for is finally here. We now have our first video from Marc Webb's The Amazing Spider-Man starring Andrew Garfield, Irrfan Khan, Denis Leary, and Emma Stone.
The trailer is supposed to be a teaser, but shows a lot of footage from the film. This origin story seems to go a lot more in-depth into Peter Parker's background, including his childhood and even introducing us to his parents. Of course the story can't change too much, but looks different enough from Sam Raimi's version to be intriguing.
Synopsis: A teenage Peter Parker grapples with both high school and amazing super-human crises as his alter-ego Spider-Man.
Starring: Andrew Garfield, Rhys Ifans, Emma Stone, Sally Field, Martin Sheen
Directed by: Marc Webb
Watch the new teaser trailer for The Amazing Spider-Man (2012) below:
What do you think of the new trailer? Are you excited for the Spider-Man reboot? Tell us in the comments below!