Celebrate the 30th Anniversary of 'E.T. The Extraterrestrial' at the Great Escape Gravois Bluffs (10/3)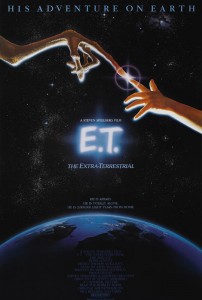 Join our friends at the Great Escape Gravois Bluffs for a 30th Anniversary showing of Stephen Spielberg's E.T. The Extraterrestrial next Wednesday, October 3 at 7:00pm.
Click here to purchase tickets.
About the special 1-day event:
In honor of this cherished classic's 30th Anniversary, join TCM Weekend Daytime Host Ben Mankiewicz for a special introduction about the making of this magical movie, the story of a boy named Elliott and an alien he calls E.T. Discover where director/producer Steven Spielberg came up with the idea for this movie and what it was like working with the film's three young stars. As an added treat, you'll hear from TCM's The Essentials co-host Drew Barrymore. Drew, who plays "Gertie" in the movie, shares what E.T. means to her 30 years later. Then after, watch the movie the way it was meant to be seen – on the big screen.
Relive the magic of one of the most popular and beloved stories of all time, E.T. The Extra-Terrestrial, October 3rd.
Check out our review of the Great Escape Theater in Gravois Bluffs.
ENTER TO WIN A PASS FOR TWO!
In order to enter the contest, "like" ReviewSTL on Facebook . Then comment on the official contest page below, telling us what your favorite memory of E.T. is and why! While supplies last. Passes are available on a first-come, first-served basis.
Winners will be chosen at random from all entries. Supplies are limited. Limit one (1) pass per person, passes admit (4) four. Sponsor's employees and their dependants are ineligible. Screening is overbooked to ensure capacity. Please refer to passes for any other possible restrictions. NO PURCHASE NECESSARY.
Don't miss the 30th Anniversary showing of E.T. at the Great Escape Gravois Bluffs on October 3!