Movie Review: 'Liberal Arts' Starring Josh Radnor, Elizabeth Olson, Richard Jenkins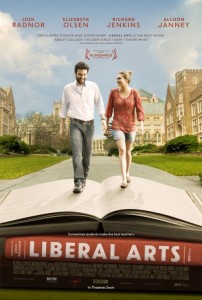 Who doesn't yearn for the days of less responsibility and the possibility of a bright future. Age has the maddening ability to increase frustrations as time seems to be winding down. Jesse Fisher (Josh Radnor) knows these things very well, which is why he jumps at the chance to visit his alma mater, when his (2nd) favorite professor announces his retirement. Jesse's future has been watered down by his career as an admissions counselor for a college in New York City.  His reaction to being back at school is immediate and profound. Aiding him in his search into his past is college sophomore Zibby (Elizabeth Olsen), who begins to coax him out of his introverted shell.  What Jesse finds is that living life in the past might not be the best path forward.
Radnor's second feature shares a lot of features with his first film, Happythankyoumoreplease. Once again Radnor writes, directs, and stars in the film. Just like his first film, it is bolstered by an impressive cast, this time that includes Richard Jenkins, Allison Janney, and  Elizabeth Olson.  It shares the same light airy tone that Radnor seems to be fond of, one that allows him to exhibit the charm that has made him popular on the CBS sitcom, How I Met Your Mother. This time around Radnor looks to be showing signs of improvement as a director. The film is tighter than his previous effort, and the story doesn't seem so forced. He still has moments where his dialogue comes off as pretentious, and many might think that he is trying too hard to assert himself as an original and idealistic writer.
What impresses about Liberal Arts is the relationships created in the film, and the variety of the characters presented in the small cast.  Radnor and Olson have an effortless chemistry that makes you root for them despite their age difference. It makes Jesse's struggle that much more palpable in the end when you see the ease in which the characters connect. The real situations that occur, the mistakes that people make, make the film an enjoyable experience.
Radnor has qualities that make him easily relatable, and it's these qualities that stand out across his film. Sometimes though there is a slight feeling the substance of the film isn't as deep as it hopes to portray. The film tries so hard to have some deep meaning, that when it finally hits you across the head with it, it feels somewhat forced. This is a shame, because the struggle of realizing life isn't heading quite the way you hoped is something everyone deals with, and Radnor could have created a moment that was profound without spelling it out.
There is no doubt that it will be hard for anyone to go into a film like Liberal Arts and not be entertained in some way. It's filled with a lot of heart, some great characters, it just doesn't have enough meat on its bones to really fill itself out as a great coming of age story. If you like Radnor in his other projects, you'll most likely find a lot to like here.
Grade: B