Great Escape Theater in Gravois Bluffs Offers Comfort, Quality
If you have not yet had the pleasure of seeing a movie at the 5-month old Great Escape Theater in Gravois Bluffs, you are truly missing out. Opened in late December of 2008, the theater is located behind the Gravois Bluffs shopping center, right off Highway 30 and 141. The Great Escape's main focus is on making the movie going experience comfortable and enjoyable for it's customers.
Theaters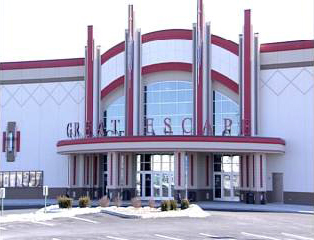 The theater houses 12 screens, 6 of which feature digital presentation. Richard Lintker, the general manager of the Gravois Bluffs theater, says that they hope to upgrade all projectors to digital in the near future. The picture is very sharp, and very bright – as you would expect in a new theater. The digital presentation looks as good as ever in all of it's crystal clear, high definition glory. Right now the Great Escape does not have an IMAX screen, but they hope to eventually add it on to the building.
There are no twists and turns to find your theater at the Great Escape. Every screen is located off of one main hallway after your ticket is taken. The presentation of the theaters is also done extremely well. The entrance to each theater is surrounded by marble flooring and walls. And the number of each theater is large and very easy to see, allowing you to find the right theater with no problems.
Seating
The seating in every theater deserves a section all of it's own. It is unlike any theater that I have ever been in before. All 12 theaters are equipped with row upon row of plush leather, rocking seats. That is right – plush leather for EVERY seat, in EVERY theater. This makes for the most comfortable movie-going experience that I have ever had the privilege of having. Coupled with a good movie, the seating makes being in the theater a comfortable experience likened to enjoying a film in your favorite recliner at home. The first movie that I saw at the Great Escape was "Star Trek," which was two hours of complete comfort.
Pricing
With all of these amenities, you might expect to pay more for your tickets and concessions at the Great Escape. This is NOT the case. The ticket prices for all of the shows are some of the lowest in the area – competing with the chains that have been around forever in St. Louis. With ticket prices on the rise around the country, it is nice to save a few cents here and there. Every little bit adds up – especially when you go to a lot of movies or have children.
Concessions
The concessions offered include the usual – popcorn, soda, candy, pretzel bites, nachos – everything that you would expect a theater that aims to please would have. The butter and popcorn toppings are self serve, allowing you to make your popcorn just the way you like it. There is even a machine featuring flavored toppings, that are dispensed right onto your popcorn for you.
Conclusion
The Great Escape Theater in Gravois Bluffs is truly an exceptional multiplex. It offers everything that an avid moviegoer could want, and provides added comfort and convenience that movie theaters have lacked in the St. Louis area – until now. With it's competitive pricing and an aim to please, you are sure to leave a happy customer. I would highly recommend the Great Escape for anyone that wants to get away for a couple of hours, and have a great time.
Great Escape Theatre

754 Gravois Bluffs Blvd
Fenton

,

MO

63026
WANT TO WIN 4 FREE TICKETS FOR YOU AND YOUR FRIENDS TO SEE ANY MOVIE YOU WANT AT THE GREAT ESCAPE?! ENTER THE CONTEST HERE, BY TELLING US WHAT YOUR FAVORITE MOVIE OF ALL TIME IS AND WHY!
For more information on the Great Escape, and to buy tickets online, visit www.greatescapetheaters.com!