I Love You Beth Cooper, Moment of Truth with Hayden Panettiere

Everyone harbors a secret desire to reveal their true feelings though rarely do we act on it. But the new motion picture comedy I LOVE YOU, BETH COOPER and its star Hayden Panettiere are about to change all that by inviting people to upload their confessional videos to iloveyoubethcooper.com for a special event entitled BETH COOPER MOMENTS OF TRUTH.
Inspired by the film's protagonist, school valedictorian Denis Cooverman, who proclaims his love for the hottest and most popular girl in school during his graduation speech, "Beth Cooper Moments of Truth" participants will tape a special message they've always wanted to express – to a friend, parent, love interest… anyone. Selected videos will be featured in television spots for I LOVE YOU, BETH COOPER.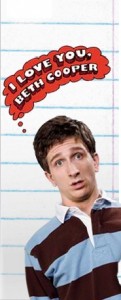 Hayden launches the campaign on www.iloveyoubethcooper.com on May 20 with a series of sample "moment of truth" videos that will be promoted on MySpace, Facebook and YouTube. The site also includes a Twitter tool that allows users to tweet their secret confessions anonymously or via their personal Twitter accounts.
I LOVE YOU, BETH COOPER opens in theaters everywhere July 10. Directed by Chris Columbus ("Home Alone," "Mrs. Doubtfire," "Harry Potter and the Sorcerer's Stone"), the film is based on the popular 2007 novel of the same name by Larry Doyle of The Simpsons and Beavis and Butthead fame.
Make sure to visit the official website, www.iloveyoubethcooper.com, and use the twitter feature on the page to tweet to your special someone!