"Burke and Hare" Trailer Starring Simon Pegg and Andy Serkis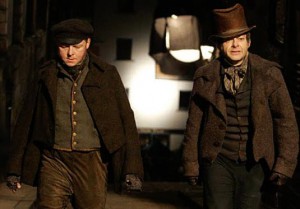 I, like any self-respecting geek, am a huge fan of Simon Pegg. He's one of those celebrities that all geeks love (along with Joss Whedon, Neil Gaiman, etc.), and when you pair him with the amazingly versatile Andy Serkis (Smeagol/Gollum for those not in the know), and the stunningly beautiful Isla Fisher, and you've got my interest.  So, it is with a bit of regret when I finished watching the latest trailer for Burke and Hare, that I was beyond disappointed. The comedy felt juvenile, the acting looked over the top, and the film itself looks as if it was filmed in three colors. All in all it felt like a trailer pushed ahead of a VHS release that was worth fast forwarding through.  I guess I'll have to wait for a better theatrical trailer before I get too excited about this film.
Synopsis:
Comedy connoisseur John Landis (ANIMAL HOUSE, TRADING PLACES) directs this darkly comic film set in 19th-century Edinburgh. Selling cadavers to medical schools was big business in the 1800s, and Burke and Hare think that they can make their fortunes in the industry. The only problem is that there aren't any dead bodies to be found.
Starring: Simon Pegg, Andy Serkis, Isla Fisher, Tim Curry, Stephen Merchant, Christopher Lee, Jenny Agutter
Directed by: John Landis
Release Date: TBD
[hdplay id=165 width=595 height=375]