Rumor Mill: Emma Stone Signed on to play Mary Jane Watson in "Spider-Man" Reboot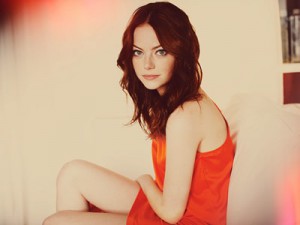 Emma Stone is making quite the name for herself. In the past few years she has been involved in quite a few underdog hits. It started with Superbad, continued with Zombieland, and now has continued with her latest, Easy A.  So, it is no surprise that when Sony Pictures went looking for a vivacious red head to fill the shoes of Mary Jane Watson that Stone's name came up.
It had been announced earlier this year that Mary Jane (aka MJ for some Spider-nerds) was not going to be a core character in the Marc Webb directed reboot of Spider-man.  Although, that appears to have been rubbish, and that Sony is going to be casting both a Mary Jane and a Gwen Stacy.
So far, most of this is circumstantial rumor, but I can't deny that Stone would make a great Mary Jane. She has the right kind of spunk, and she certainly has the looks for the role. She certainly looks a lot more natural to the role than Kirsten Dunst did, and despite being 22 she still looks convincing enough as a high school student.
My guess is that she'll do some screen tests (if she hasn't already) with star Andrew Garfield to see if she fits the role. If the chemistry is there, I would guess Sony will quickly sign her on to get her ready for the December start of shooting.
I have to admit, for a project that I felt was kind of iffy at first, I'm getting a bit excited. Andrew Garfield was fantastic in The Social Network, and it put me at ease about his casting. Add in Marc Webb at the helm, and the stock goes up a bit.  Emma Stone would seal the deal that this film might be the real deal, and not just a quick grab for cash by Sony. Now let's see who they cast as the villain, and the rest of the supporting roles.
What do you think? Let us know in the comments!