Becca Reviews "Black Swan"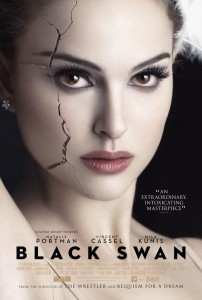 Ever since the first time I saw the Black Swan trailer, I have been really excited to see this movie, and tonight I did not leave disappointed.  I left absolutely blown away by Natalie Portman's performance.  This is a film that grips you from the first scene and never lets go. 
Nina is a ballerina in a New York City ballet company whose life is completely consumed with dance. She lives with her obsessive former ballerina mother Erica who exerts a suffocating control over her. When artistic director Thomas Leroy decides to replace prima ballerina Beth MacIntyre for the opening production of their new season, Swan Lake, Nina is his first choice. But Nina has competition, Lily.  As the two young dancers expand their rivalry into a twisted friendship, Nina begins to get more in touch with her dark side – a recklessness that threatens to destroy her. 
Natalie Portman in this movie is astounding.  The dedication she gives to this movie not only through dancing, but through the varying emotion she portrays is phenomenal.  As I watched this movie, I started to develop a relationship with her character.  As the pressure kept building up inside her, I felt pressure as well.  Natalie does such a great job with portraying every emotion necessary to fulfill the intensity of her role.
Aside from Natalie's performance, I thought the other actors did a fantastic job as well.  Mila Kunis plays a sweet, but very wild girl.  She makes you laugh throughout with her one-liners and actions, but she also gains your respect because of the sincerity of her friendship with Natalie's character.  Vincent Cassel owns the dance company, and lets you know from the beginning that he is somewhat of a creep.  Although he is referred to as a pervert in the movie, he still displays much passion for dance and art of the show. 
Overall I think the movie has a great story line and will keep you engaged. I was on the edge of my seat the entire time.  Even if you are not a huge ballet fan, this movie will leave you with a new respect for the art. The movie really shows how much pain and hard work dancers go through just to get a few minutes in the spotlight.  Black Swan is a must see. 
I give Black Swan a very high A.