Watch She and Him, Zooey Deschanel's Band, Perform on Conan (Video)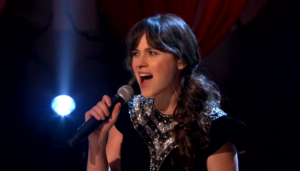 Zooey Deschanel broke into the movie scene and hit it really big a couple of years ago. She has played some pretty major roles in "Failure to Launch," "Yes Man" and of course – "500 Days of Summer." But what many people don't know is that Zooey is also one half the musical group She and Him.
The band, comprised of both Zooey Deschanel and Matt Ward released their debut album a couple of years ago, title "Volume One. "Volume Two," the groups latest album, was released in March of 2010. To promote their work, Zooey and Matt performed on "Conan." Watch the video below:
What do you think of She and Him? Leave a comment below!