Best Videogames of 2009 Awards – Chosen By GameFly Users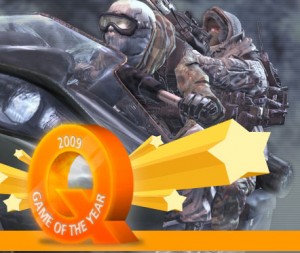 GameFly members turned out in force to award 2009 Game of the Year honors to Activision and Infinity Ward for Modern Warfare 2. The first Modern Warfare set a new gold standard for shooters and online play in 2007. Modern Warfare 2 polishes that standard until it shines, soldier! The game attacked our feeble resistance on three fronts: an action-packed and dramatic single-player campaign; a fun, all-new co-op Spec Ops mode; and better-than-ever online multiplayer with plenty of new tricks up its camouflaged sleeves.
Call of Duty Modern Warfare 2 was the big winner this year, earning the top award for best videogame overall – as well as best videogame on XBOX 360. And it deserved it! I haven't talked to a person yet who didn't like it. Check out all of the other winners below.
For a FREE 10 day trial to GameFly, click here!

Here is what GameFly users chose:
Best Videogame of 2009:
2nd Place: Uncharted 2: Among Thieves
3rd Place: Assassins Creed 2
Best XBOX 360 Videogame of 2009:
Call of Duty: Modern Warfare 2
Modern Warfare 2's multiplayer action was the best yet in the series. It's no surprise that it has dominated all other titles in popularity on Xbox LIVE since it released in November.
Best Playstation 3 Videogame of 2009:
Uncharted 2 delivered the complete package: perfect pacing, stunning graphics, excellent combat, top-notch platforming, clever puzzles, an engaging story, and fun multiplayer modes.
Best Wii Videogame of 2009:
Old-school platforming met crazy new co-op mechanics in a Mario Bros. game that was as classic as it was fresh. NSMBW won it's category in the biggest landslide of the entire awards.
Best Nintendo DS Videogame of 2009:
Grand Theft Auto: Chinatown Wars

The first GTA on the DS squeezed a full-sized Liberty City experience into a pint-sized package. GTA:CW put hits out on some stiff DS competition in the closest race of the awards.
Best PSP Videogame of 2009:
LBP brought the core gameplay of the PS3 original to the PSP with few concessions. Sackboy sewed up the win with his signature style and off-the-wall, imaginative level design.