Mamma Mia! is a Blast! Fun at the Fox Theatre – Review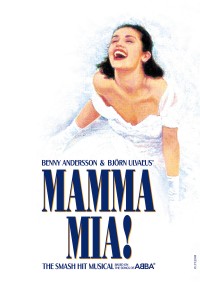 Energy. Music. Fun. All of these are words that describe your experience when you go to see Mamma Mia! Currently playing at the magnificent Fox Theatre in St. Louis, you realize that you are in for a good time as soon as the actors take the stage. The smash hit musical, telling the story of a young bride-to-be looking for her father to walk her down the aisle, is energetically narrated with the songs of ABBA throughout. Get ready for a great show, and experience the music of Mamma Mia!
Sophie (Liana Hunt) is a young girl, barely in her twenties, getting ready for her wedding day. Her friends are coming in town, she has a dress, and almost all of the arrangements are made. But something is missing. Sophie has never met her father, and doesn't even know who he is. Determined to find him before she says her vows, she reads through her mother's diary from the year she was born. She finds passages about three of her mother's lovers and, determined to get her father to the wedding, sends an invitation to all of them. Unbeknown to her mother Donna (Michelle Dawson), the invitations say that she is the one who invited them. The unexpected visitors make for a chaotic day before the wedding, as Sophie and Donna both search for the truth.
The show opens with Sophie sitting in the moonlight, reflecting on her mother's journal and the decision she is about to make. She carefully mails three letters, hoping that one of them will find its way to her father. Come morning her two bride's maids, Lisa (Ayme Olivo) and Ali (Melanie Brezill) arrive on the Greek island. Almost immediately upon their arrival, Sophie breaks into song with "Honey, Honey" about her mother's journal entries. The energy and passion put into this first big number really sets the audience up for the rest of the show. Let the fun begin!
At this point, the stage transforms from the outside of a building into the elaborate interior of Donna's hotel. Throughout the show, the well designed stage makes seamless transitions from one location to another, making for an authentic Greek surrounding. It is at this location that we are introduced to Donna, and her daughter's three possible fathers: Harry Bright (Vincent Corazza), Bill Austin (Matthew Ashford), and Sam Carmichael (John Sanders). This performance happened to be the first show since the three of them joined this tour – and they were all fantastic. From their spot-on performances, you would have thought they were on the tour all year. Each of them added their take on the roles in a great way, bringing the humor, charisma, and vocal ability to the table that you would expect.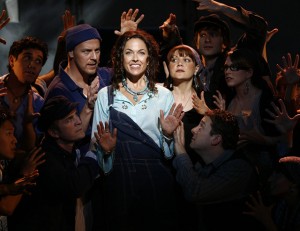 Donna is a hard working, independent single mother who hasn't taken a day off from work in 15 years. Portrayed in the show by the talented Michelle Dawson, we immediately understand that taking care of the hotel and raising her daughter has been her entire life as of recent. She doesn't have time for dating, and you get the impression that she is a little weary of men. In "Money, Money, Money" she sings about what it must be like to have money, in what she considers a rich man's world. It is here that we are introduced to Michelle Dawson's powerful voice, in which it almost seems that she has to hold back in order to sing the part. Her vocal ability is outstanding, and the song is a lot of fun to watch her perform. The ensemble cast backs her up, as they all dance and sing around the hotel.
There are so many great songs from start to finish in Mamma Mia! It is amazing how they tell the story using classic ABBA songs, and how it flows so perfectly that you would think the songs were made for it. Harry, Bill and Sam really start to feel comfortable about being at the hotel in "Thank You For The Music," a touching song that they sing with Sophie. Once Donna finds out that all three of the guys are at the hotel, time seems to stop around her and she starts singing "Mamma Mia." This is one of the big ballads in the show, and also one of the most fun.
Right when you think it can't get any better, here comes "Dancing Queen." Probably the most recognizable ABBA song, and thought of as one of the greatest songs of all time, this is a song that cheers Donna up – along with anyone else that is in the audience. Donna's best friends who are in town for the wedding, Tanya (Rachel Tyler) and Rosie (Kittra Wynn Coomer), sing the song with her in one of the hotel rooms. Grabbing anything around them to use as make-shift microphones, they add so much excitement to the song that you just can't help to smile. Both Rachel Tyler and Kittra Wynn Coomer give it their all, and never fail to add humor to the performance.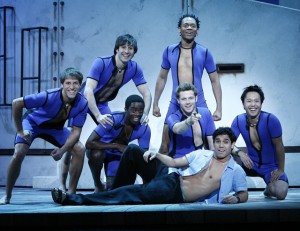 Mamma Mia! has some of the best ensemble performances that I have seen in a long time. Everyone in the show is an incredibly talented performer, singing and dancing in many intriguing dance numbers. There are times where the entire cast is on stage at once, dancing with each other and switching partners with ease. These are amongst some of the most entertaining numbers. "Lay All Your Love On Me" starts with Sophie's fiancé Sky (David Raimo) singing to her in a great performance, as they go back and forth. But half-way though the song, they are joined by all of the guys in the ensemble – who are there to take Sky away to his bachelor party the night before the wedding. This is one of the funniest song and dance numbers in the entire show. It is hilarious, and earned a huge round of applause from the entire audience. Later during "Gimme! Gimme! Gimme!" we see another great performance, this time by the ladies of the ensemble, as Sophie tries to find out more about her possible fathers.
Toward the end of show, Michelle's voice really gets to shine again, as she sings the powerful "Winner Takes It All." This is a song where we really get to see into Donna's feelings, and proves for a touching moment. Followed closely by "Take A Chance On Me," the show proves to be continually entertaining without skipping a beat.
Mamma Mia! is a show that is very different than so many others that you will see at the theater. There are millions of people who have seen the show now, which has become the 12th longest running in Broadway history. Many of them can tell you how many times they have seen it, and remember every location and performance. It is a truly memorable show that will stay on your mind long after you leave the theater, and will keep you wanting to come back! There is no secret behind the success of this incredible show, backed by great music and an outstanding cast. This is one that you do not want to miss out on. And don't forget to stay after the curtain call, as the stage is transformed into a rock concert that will have the entire audience on their feet!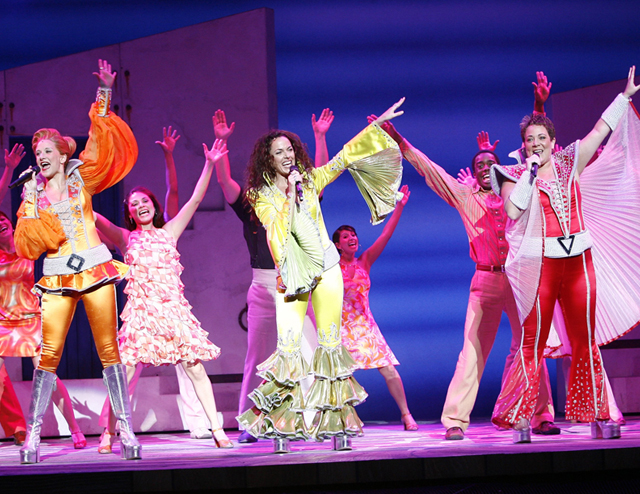 ---
Mamma Mia! will be playing at the Fabulous Fox Theatre in St. Louis from February 16th to the 21st. You can purchase tickets at Metrotix, or visit the Fabulous Fox website for more details.