Another Take By Zac: Film Review: Cars 2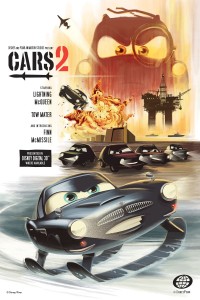 Cars 2 is fun, funny, fast paced, and an exciting spy movie that improves upon the original Cars and has fun with the genre its playing in; while turning in some quality set pieces that a lot of action movies wish they had.
The original Cars has grown on me every time I've seen it and while it's still my least favorite Pixar film I still think it is quite a good little movie.  One thing I realized recently about Cars, don't know why it took so long, is that it is almost without a plot.  Sure there is the race but it is just a character piece more or less and that realization even furthered my enjoyment of the original film.  And it wasn't till we got to Radiator Springs in Cars 2 that I realized how much I liked and missed these characters and their stories.  I honestly think I would have enjoyed Cars 2 had it just been another nice and easy character piece in Radiator Springs and this sequel made me retroactively appreciate Cars even more for its great character work.
People that were affected, consciously or not, by Cars lack of plot will have no issues here as Cars 2 is full of it.  The film reunites us with the Radiator Springs crowd briefly in their home town before sending a good chunk of them around the world, with Lightning McQueen, on an international, green fueled, race; featuring the worlds best racers.  This plot is intertwined with a new batch of characters, British spies to be exact, who are investigating an evil group of oil riggers who have taken out one spy to keep their secret and will take out anyone else in their path.  Unfortunately, Mater gets mixed in with these spies on the road with Lightning and finds himself in a case of mistaken identity with the Brit, Finn McMissile.
The spy film aspect of this film is top notch stuff and it kept me on my toes even if I had some hunches with the twists and turns.  I really appreciate Pixar's green message here as well, basically saying, "Screw You Big Oil," in the one of the biggest films of the year.  I mean, the fact kids are going to grow up watching this movie repeatedly with that message just make me so damn happy. But back to the spy stuff, the action is great here and there are some serious stakes introduced here.  Multiple, repeat multiple, cars are shown to have been killed/die in the films opening scene; with more still left to bite the dust.  Mater is in some serious peril here.  Anyone who thought the spy angle was a cheap gimmick by Pixar, I think, will happily be proved wrong.
The film is also gorgeous with some of the best animation and scenic vistas animated films have seen yet.  From Towkyo, to Italy, to London, everything is lovingly molded to fit the Cars world all while remaining familiar.  Also, keep an eye out in the background for lots of little easter eggs.  The animation can not be complimented enough though; the studio continues to get better and better.  The 3-D is also the most present and best yet for a Pixar film and I really hope Pixar continues to further integrate the medium to their projects.
The humor is also a notch above the original film and I would have never imagined myself finding Larry the Cable the Guy so funny and endearing.  The film is really Mater's more than anyone and John Lasseter and company somehow make the Mater spy mix up work, with nearly flying colors.  Mater's 'skills' are entirely valid and earned and I never once doubted his work.  They really managed to make Mater a three dimensional and interesting character who has to deal with some tough issues; internally and physically.  The rest of the voice cast is stellar as always here with the new faces holding their own and able to sell their story as it is thrust into the forefront.  Michael Caine, Emily Mortimer, Eddie Izzard, and John Turturro all shine and make excellent editions to the Cars universe.
In the end, Cars 2 is an improvement on the original and is a great entry into the spy & animated film catalogs.  Lasseter and company have kept the streak alive and made something special out of the Cars world.  Sure they lay the sappy sentiment on a little too thick, but that is the way of this universe and it is never at all out of place nor too frequent.  Pixar continues to show why they are the best studio out there as they have proven the Cars universe and its cast of characters is a wonderful place to revisit time and time again.
Cars 2 is an A-