Movie Review — Pixar's CARS 2 Starring Owen Wilson, Michael Caine, and Larry the Cable Guy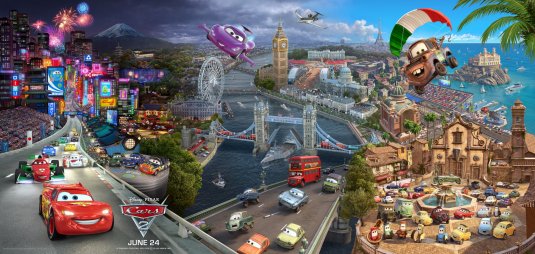 Pixar has created a lot of outstanding films.  The TOY STORY trilogy, THE INCREDIBLES, and RATATOUILLE are absolute classics for me.  Other Pixar films I have not loved as much.  I personally felt that A BUG'S LIFE, MONSTERS INC, and FINDING NEMO were a little too kid friendly.  Nothing wrong with it, but I just believe that their other films are more adult.  This is the reason I had never seen CARS.  It just did not feel like something I would be interested in.  So given that background, I had no real expectations for CARS 2.  I did not think that I would like it.  While CARS 2 is not Pixar's best, it is still a fun entertaining ride that I believe kids will love.
The story centers around Mater, Lightning McQueen's best friend, who gets thrown into the world of international espionage.  Finn McMissile and Holly Shiftwell  aid Mater in his journey to discover who is sabotaging the cars during the World Grand Prix.  The same race that Lightning McQueen is trying to prove that he is the number one race car in the world.  Will Mater be able to stop the madman behind it all or will Lightning be the next car taken out of the race?
CARS 2 is a great tribute to the spy genre.  From the opening scene with Finn McMissile sneaking onto an oil tanker, you immediately feel like this could be a sequence in a James Bond film.  This sequence not only throws us into this espionage world, but it also showcases one of the better action set pieces you will see all summer.  And this is only the first of many throughout the film.  As with every Pixar film, the animation is stunning.  The film is worth seeing on the big screen just so you can see all of the beautiful details.
The film is not perfect.  I, personally, do not care for Larry the Cable Guy or his comedy.  Since he is the main focus of the story, it gets tough to have to sit and listen to him the entire film.  The story is predictable.  If you have seen any spy or espionage film, you will know exactly who is the "secret" villain behind it all.  My last complaint is that with Pixar, audiences have expected an emotional punch.  UP, WALL-E, and TOY STORY 3 all brought grown men to tears.  This is not the same type of film.  It does have a lesson about friendship, but it just does not reach the same emotional level.
CARS 2 is a fun adventure that provides great action sequences and wonderful visuals.  Unfortunately, given Pixar's track record, audiences maybe expecting a better film.  This is certainly not their best in the studios history.  But even a bad Pixar film is better than a lot of the other animated films that see releases every year.  I suspect kids will certainly enjoy it.