ANONYMOUS Opens October 28! Enter to Win Passes to the St. Louis Advance Screening!
Enter for your chance to win a pass, good for two!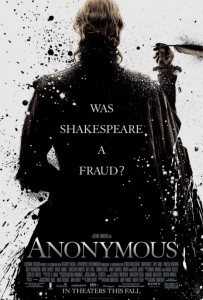 Set in the political snake-pit of Elizabethan England, "Anonymous" speculates on an issue that has for centuries intrigued academics and brilliant minds such as Mark Twain, Charles Dickens, and Sigmund Freud, namely: who actually created the body of work credited to William Shakespeare? Experts have debated, books have been written, and scholars have devoted their lives to protecting or debunking theories surrounding the authorship of the most renowned works in English literature. "Anonymous" poses one possible answer, focusing on a time when scandalous political intrigue, illicit romances in the Royal Court, and the schemes of greedy nobles lusting for the power of the throne were brought to light in the most unlikely of places: the London stage.
STARRING: Rhys Ifans, Vanessa Redgrave, Sebastian Armesto, Rafe Spall, David Thewlis, Edward Hogg, Robert Cecil, Xavier Samuel, Sebastian Reid, Jamie Campbell Bower, Joely Richardson
DIRECTED BY: Roland Emmerich
In order to enter the contest, become a fan of ReviewSTL on Facebook and share ReviewSTL.com with all your friends (click the "share" link on the bottom-left side of the page) – telling us why you can't wait to see the movie! Then like the post to complete your entry. NO PURCHASE NECESSARY. PLEASE REMEMBER TO READ THE RULES!
SCREENING IS THURSDAY, OCTOBER 27 AT WEHRENBERG DES PERES 14 CINE (7PM).
Good luck! We hope to see you at the movies!
ANONYMOUS opens nationwide on Friday, October 28.