THE MIGHTY MACS Opens October 21! Enter to Win Passes to the St. Louis Advance Screening!
Enter for your chance to win a pass, good for two!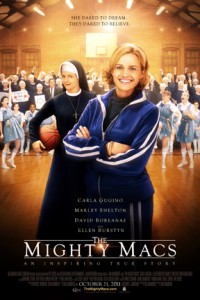 Based on the true story of the 1971-72 Immaculata College team that started in obscurity but became the original Cinderella story in women's basketball. This team of trailblazers went from barely making that inaugural tournament to the first dynasty in their game. And Cathy Rush, the woman that was ahead of her time, became immortalized when she was inducted into the Naismith Memorial Basketball Hall of Fame in 2008.
Starring: Carla Gugino, David Boreanaz, Marley Shelton, Ellen Burstyn, James Rebhorn
Directed by: Tim Chambers
In order to enter the contest, become a fan of ReviewSTL on Facebook and share ReviewSTL.com with all your friends (click the "share" link on the bottom-left side of the page) – telling us why you can't wait to see the movie! Then like the post to complete your entry. NO PURCHASE NECESSARY. PLEASE REMEMBER TO READ THE RULES!
SCREENING IS THURSDAY, OCTOBER 20 AT WEHRENBERG DES PERES 14 CINE (7PM).
Good luck! We hope to see you at the movies!
THE MIGHTY MACS opens nationwide on Friday, October 21.