American Idol Recap / Review (4/13-14/11)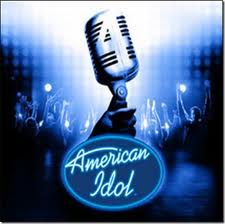 Just a note before I start this, if you are wondering why I don't breakdown every aspect of the show, its because I only watch the performances and fast forward through the rest of the show. I don't care for the judges or Ryan Seacrest, so I just watch the performances and judge them for myself.
Performance Show (April 13, 2011)
The Contestants are singing Songs From The Movies with the help of Will.i.am again this week. Here's what they all performed
Set List
Paul McDonald- Bob Seger's "Old Time Rock N' Roll"
(Opinion- Horrible song choice, Not a strong enough voice for a Seger song)
Lauren Alaina- Miley Cyrus's "The Climb"
(Opinion- One of her better performances, Safe this week)
Stefano Langone- Boyz To Men's "End of the Road"
(Opinion- Came back with a vengeance, best performance to date, Safe)
Scotty McCreery- George Straight's "Cross My Heart"
(Opinion- Very boring performance but America loves this guy, Safe)
Casey Abrams- Nat King Cole's "Nature Boy"
(Opinion- Loved the performance but feel it could be lost among American Idol watchers)
Haley Reinhart- Blondie's "Call Me"
(Opinion- One of her worst performances, did not care for this performance)
Jacob Luck- Simon and Garfunkel's "Bridge Over Troubled Water"
(Opinion- Don't care for his voice but feel this performance kept him in the game, Safe)
James Durbin- Sammy Hagar's "Heavy Metal"
(Opinion- Seriously, you brought Zack Wilde out for this, amazing! Safe! Safe! Safe!)
Now Here's My Opinion on American Idol's Performance Show: I was thoroughly amazed by the majority of the singers this week. A couple of them stood out as being both bad and good. Haley, Scotty, and Paul all had a subpar week in my eyes but America loves them so I think out of the three of them Paul would be the one, if any, that goes home this week, but I have been surprised before. Stefano and Jacob came back strong this week but America kind of has it out for Stefano so he could be going home this week. Lauren had a very safe performance so I feel she a lock to be back next week. I absolutely loved Casey's performance but I think the one thing that could kill him is the fact that it's a really slow song and America could look past his singing abilities and get rid of him, I hope not, but it could happen. James is amazing every week and America adores this guy so there is no way in hell that he is going anywhere any time soon.
Here's my own personal bottom three, with who I feel should be going home based off of their performance and then I'll give you what I think will actually happen.
My Bottom Three
#1 Haley Reinhart
# 2 Paul McDonald
# 3 Scotty McCreery
With Paul going home this week. Now this scenario is probably not going to happen so here's how it will probably go down:
Actually Bottom Three
#1 Stefano Langone
#2 Casey Abrams
#3 Paul McDonald
With Paul still going home. I just feel his song choice was horrible and that's going to kill his dream of being the next American Idol.
Later I'll give you my breakdown of the Results Show and I will personally go out on a limb and make my prediction on who I think will make the Top 5.
Results Show (April 14, 2011)
They had subpar performances by Jason Aldean with Kelly Clarkson and by Rihanna. Rob Reiner shows up to teach the contestants something about singing for the movies. The contestants started by performing in pairs, Scotty with Lauren and Casey with Haley and then the remaining four guys Jacob, Stefano, Paul, and James performed as a quartet.
Results
Ryan Seacrest brings Lauren, Casey, Scotty, and Haley to the stage and announces that Haley is in the Bottom Three. Later, Ryan brings Jacob, Stefano, Paul, and James up on stage and announces that Paul and Stefano are in the Bottom Three this week.
Bottom Three
#1 Haley Reinhart
#2 Stefano Langone
#3 Paul McDonald
Ryan sends Haley back to safety first making this the first time a girl will not be eliminated. Finally, Ryan announces that Paul has been eliminated from American Idol. The crowd had a mixed reaction to this and Paul responds by trying to get everyone pumped up. Ryan finally goes to Jennifer Lopez and ask her what song she would like to see Paul leave the show on and she responds with "Maggie May" by Rod Stewart. Paul again responds with trying to get the crowd more into the performance.
Now Here's My Opinion on American Idol's Results Show: Who could have possibly predicted that Paul was going home this week? The answer to your question is, This Guy, just check yesterdays review and it's there, I also predicted two out of the three bottom people…Hell if you mix the list I predicted all three of them. After last week I was skeptical as to what America was going to do this week, but they proved me wrong and got the elimination right in my eyes. I felt Paul had the weakest of the performances and was really hoping that America would get rid of him. I did like Paul's voice but I just feel like there are so many more, better, singers on the show this season. I thought it was hilarious that J Lo chose "Maggie May" as the song for Paul to go out on, because I have been comparing Paul's voice to that of Rod Stewart for weeks now and loved it when he performed that song earlier in this season.
Now next week is up in the air for me because the competition is so fierce right now and it's almost impossible to predict the show from week to week, but last night I did promise to give you who I think will make the Top Five so here I go:
Predicted Top 5, in no specific order
#1 Casey Abrams
#2 James Durbin
#3 Lauren Alaina
#4 Scotty McCreery
# 5 Haley Reinhart
Now that is who I feel has been strong enough all season to make it to the top five. It's way too early to predict a winner but at this point James as a stranglehold on the competition and I don't know who is going to step up and take him off of his throne.