Movie Review: "RIO" Starring Jesse Eisenberg, Anne Hathaway, George Lopez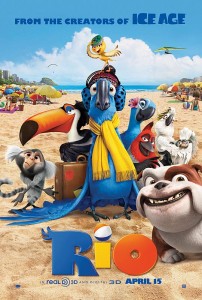 Set in Brazil, Rio follows the adventures of Blu (Jesse Eisenberg), a rare blue macaw. Blu, smuggled out of Brazil as a baby, has spent the last 15 years of his life enjoying the friendly confined tranquility of Minnesota after falling off of a truck; his owner Linda (Leslie Mann) spoils him at every turn. But when Blu turns out to me the last male of his species, the two must return to his homeland so he can breed with the recently discovered last female. That's right…Rio is 90-minutes of a cartoon bird trying to get laid. Of course nothing is ever as simple as it seems as the female in question, Jewel (Anne Hathaway), is hell bent on escape and has zero interest in the overly domesticated suitor. His captivity has made him soft to the point that he can't even fly. When the two are recaptured by smugglers they end up shackled together and on the run. Think The Defiant Ones (The De-flyant Ones?).
Not since The Three Caballeros has an animated film been so seemingly devoted to driving tourism to an exotic locale. Directed by Brazilian Carlos Saldanha, the film is a virtual love letter to his native land. And to his credit, he even managed to include Rio's poverty-stricken favelas without sucking the life out of the film. The film's palette is extraordinarily vibrant even with the normally color-draining 3D glasses. Department stores are destined to spend the next five years using this film to show off their flat screen TVs.
The film is a musical of sorts. The songs are a notch above passable, but nothing truly memorable. But the numbers are far enough apart as to be jarring; coming so infrequently that at times you might forget that this is technically a musical. Because of these lapses, the picture never really gains momentum as a true musical.
But the characters are endearing and the voice work is solid, even from animation novices like will.i.am and Jamie Foxx. And while the story amounts to little more than an extended chase scene, it moves along at a good clip with a relatively sufficient amount of laughs. Unfortunately, the movie never really manages to become anything truly original.
On a scale of 1 to 10, with 10 being The Enchanted Tiki Room and 1 being The Birds II: Land's End, Rio gets a 7.
[hdplay id=315 width=595 height=375]