"Alfred Hitchcock and the Making of Psycho" Looking to Add More to Already Impressive Cast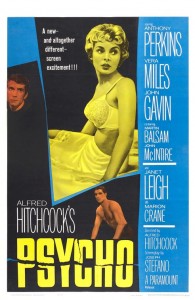 "Psycho" is one of my favorite classic horror films.  I just love the performance from Anthony Perkins even more with each viewing, and the film has infinite replay value for me.  So I am very excited about the potential of this project.  Not just because of the subject matter, but the star studded cast that is being aligned.
So let's get to the lineup of names.  Anthony Hopkins.  Scarlett Johansson.  Helen Mirren.  James D'Arcy.  Jessica Biel.  But that's not enough.  Today, reports are stating that Toni Colette, Danny Huston, Michael Stuhlbarg, and Michael Wincott.  All exceptional character actors that can only add to this production.
What I was not aware of is that we have dueling Hitchcock pictures coming up.  "The Girl" starring Toby Jones and Sienna Miller will also be released in 2013.  That film will be based upon Hitchcock's relationship with Tippi Hedrin during the filming of "The Birds".
Which film are you more intrigued by?  Behind the scenes of "Psycho" or "The Birds"?  Let us know in the comments below.