Cavalia Races into Saint Louis

If you are like most St. Louisans'; you have probably been asking yourself one of two questions "What are these billboards for Cavalia?" or "What is that big white tent next to Busch Stadium?" To answer in short, "Cavalia: A Magical Encounter between Human and Horse" is a show that brings us closer to the evolution of man and horse.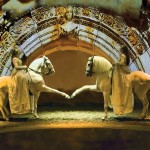 Cavalia founder Normand Latourelle (who co-founded Cirque Du Soleil in 1985) decided in 2003 that he wanted to do something new, something different.  After proclaiming that he is not really a horse lover himself; he made the decision to put a few horses on his farm in Montreal.  Careful research showed Latourelle that there is a significant bond between man and horse and that one really could not have existed for so long without the other.  He seeks to take his artistic talent (which he denies he has) and really bring this together in a production that is breathtaking to say the least.
Cavalia is made up of 49 horses of 10 different breeds and over 2 dozens acrobats, riders, and musicians who make this show come to life.  I implore those of you who believe animals used for performance are mistreated to check out this show.  Careful thought and consideration is taken in the training and bond between performers (both human and animal). There are no electric prods or whips, just gentle caresses from the performers to show each other what they want next.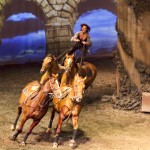 I personally found the show to be emotionally overwhelming at times.  Whether it was the snow, acrobats, or horses that flew by my mind seemed overwhelmed almost like being at Disney World for the first time.  If you are a die-hard Cirque Du Soleil fan I encourage you to give this show a chance.  If you are a horse lover, this is a must see.
Cavalia's 10-story tent rises up just over the height of I-64 in Downtown St. Louis and will be here for 2 more week's right into Opening Day for the St. Louis Cardinals.
Important Information:
When: Now through April 8
Where: West of Busch Stadium and South of I-64 (Hwy40) at Seventh and Cerre streets in St. Louis
Tickets: $24.50 to $99.50, depending on your age and the performance, and up to $189.50 for VIPs. Pick them up at the box office between 9 a.m. and 8 p.m. daily, call 866-998-8111 or go to www.Cavalia.net.