Adam Shankman directing 'Rock of Ages'
Adam Shankman is a busy guy these days. He's now one of the weekly judges on the hit reality competition So You Think You Can Dance. His in development credits on IMDB are a bit over the top. I'm not sure how I feel about his directing ability. He's never made a film that I thought was great, but at the same time none of them were horrible. Hairspray was passable, and if you are really into that style of musicals then it probably floored you. This project should be right up his alley. I'm all for an 80s themed musical using hits from the same era.
From Variety.com:
---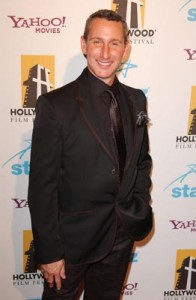 "Hairspray" helmer Adam Shankman is signing on to direct and choreograph the screen version of the Broadway musical "Rock of Ages" for New Line Cinema.
The film will begin production by next summer and be released by Warner Bros. in 2011.
The musical's creator, Chris D'Arienzo, scripted the movie adaptation. Carl Levin, Matt Weaver, Scott Prisand, Tobey Maguire and Jennifer Gibgot will produce. Janet Billig and Hillary Weaver are executive producers.
"I had the best time of my life making 'Hairspray' and badly wanted another musical, and when I watched 'Rock of Ages,' I was struck by the fact that not only had much of the audience seen it more than once, every guy in the audience knew the words to the songs," Shankman told Daily Variety. "What an extraordinary opportunity to open the genre to an audience that otherwise wouldn't go see a musical."
The tuner tells of two people who meet at the Sunset Strip club Rock of Ages, fall in love and try to stay together amid'80s rock anthems made popular by Journey, Twisted Sister, Joan Jett, Bon Jovi, Pat Benatar and other groups. New Line is clearing music rights to the tunes.
Since its move to Broadway, "Rock of Ages" fills most of its 1,000 seats at Brooks Atkinson Theater, helped by five Tony nominations. The show will begin a worldwide rollout over the next several years.
Shankman said he hopes to shoot the picture in its proper setting, which means lensing in Los Angeles. Shankman said, "I'm thinking big, and absolutely am going to attempt to cast with movie stars. Now that musicals are working again, actors are much more open to it."
---
I actually really like Shankman on SYTYCD, he's a bit over the top at times (and it shows in his directorial style). Overall, though he seems to have good taste, and is one of the more compassionate and real of the judges on the show. I'm just hoping he can translate that likeability a bit more to the people he hires on screen.