Inglourious Basterds Coming to DVD & Blu-Ray December 15th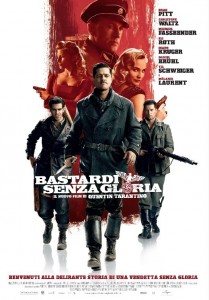 After watching Inglorious Basterds for a second time it is quickly becoming my favorite Tarantino movie of all time. I'm not one of the people who worships at the altar of Quentin Tarantino. I think he makes good films that pay homage to great films (or a lot of times wacky sub-culture films). With Inglorious Basterds it seemed he is really starting to get some more things right. His dialogue, while wordy, was his most elegant to date.  The film was just a fun experience. So, I think there is no doubt I will be adding it to my collection come Decemeber 15th.
Universal Studios Home Entertainment Unleashes the Sensationally-Entertaining, Wildly-Acclaimed Action Event of the Year! From Writer/Director Quentin Tarantino – Starring Brad Pitt – Inglourious Basterds "The Most Entertaining Movie Of The Year."- Larry King
UNIVERSAL CITY, Calif., Oct. 20 /PRNewswire/ — Cinematic icon and filmmaker Quentin Tarantino (Kill Bill Vols. 1 & 2, Pulp Fiction) helms one of the most audaciously inventive, eagerly-anticipated films of the year, Inglourious Basterds, coming to Blu-ray(TM) Hi-Def and DVD on December 15, 2009 from Universal Studios Home Entertainment. Starring Academy Award® nominee Brad Pitt (The Curious Case of Benjamin Button, Burn After Reading) in an audacious, adrenaline-packed, high-octane World War II revenge fantasy, Inglourious Basterds has been hailed as one of Tarantino's most stylish and entertaining films to date. From its deceptively bucolic opening scenes to its incendiary final moments, Inglourious Basterds delivers a heady combination of fact and fantasy that never fails to surprise. Written and directed by acclaimed filmmaker Quentin Tarantino, Inglourious Basterds is available on Two-Disc Blu-ray(TM) Hi-Def, Two-Disc DVD Special Edition, Single-Disc DVD and download to own. Both the Blu-ray(TM) and Two-Disc Special Edition DVD come with a Digital Copy of the film for a limited time only just in time for the holiday season and over 90 minutes of startling and engrossing behind-the-scenes bonus features.
Brad Pitt shines as the bodacious American commander of a lethal team of Jewish-American soldiers known as "The Basterds" – whose exploits in occupied France strike terror in the hearts of the German rank and file and enrage the German High Command. The acclaimed cast also includes Christoph Waltz, who was named Best Actor at the 2009 Cannes Film Festival for his unforgettable performance as a charming but cunning Nazi officer, B.J. Novak ("The Office"), Diane Kruger (National Treasure), Eli Roth (director of Hostel), Melanie Laurent (Paris), and Michael Fassbender (The Bourne Ultimatum).
In addition, notable veteran guest stars including Mike Myers (Austin Powers), Rod Taylor (The Birds), Julie Dreyfus (Kill Bill Vol. 1) and others contribute to this larger than-life story that mixes pulp and propaganda in Tarantino's inimitable way.
Inglourious Basterds is priced at $39.98 SRP for Two-Disc Special Edition Blu-ray(TM), $34.98 SRP for Two-Disc Special Edition DVD and $29.98 SRP for Single Disc DVD. Preorder close is November 3, 2009.
BONUS FEATURES
All three editions of Inglourious Basterds include:
Extended & Alternate Scenes
Nation's Pride – The film within the film Inglourious Basterds can be seen it its entirety
Domestic and International Trailers
Both the Two-Disc Special Edition and Blu-ray(TM) also come with:
Round table Discussion with Quentin Tarantino, Brad Pitt and film historian/critic Elvis Mitchell
The Making of Nation's Pride
The Original Inglorious Bastards – a salute to the original 1978 film
A Conversation with veteran actor Rod Taylor
Rod Taylor on Victoria Bitters, the Australian beer
Quentin Tarantino's Camera Angel
Hi Sallys – Gag Reel
Film Poster Gallery Tour with Elvis Mitchell
Inglourious Basterds Poster Gallery
Digital Copy of Inglourious Basterds
In addition to the above features, the Inglourious Basterds Blu-ray(TM) Hi-Def release includes:
BD-Live(TM)– Access the BD-Live(TM) Center with your Internet-connected player to download the latest trailers, host a chat with your buddies, upload your own webcam commentary, and more!
SYNOPSIS
In the first year of the German occupation of France, Shosanna Dreyfus (Melanie Laurent) witnesses the execution of her family at the hand of Nazi Colonel Hans Landa (Christoph Waltz). Shosanna narrowly escapes and flees to Paris where she forges a new identity as the owner and operator of a cinema.
Elsewhere in Europe, Lieutenant Aldo Raine (Brad Pitt) organizes a group of Jewish American soldiers to perform swift, shocking acts of retribution. Later known to their enemy as "the Basterds," Raine's squad joins German actress and undercover agent Bridget von Hammersmark (Diane Kruger) on a mission to take down the leaders of the Third Reich. Fates converge under a cinema marquis, where Shosanna is poised to carry out a revenge plan of her own. …
Employing pulp and propaganda in equal measure, Quentin Tarantino's INGLOURIOUS BASTERDS weaves together the infamous, oppressed, real and larger-than-life stories of WWII.
www.inglouriousbasterds-movie.com
CAST AND FILMMAKERS
Directed By: Quentin Tarantino
Screenplay By: Quentin Tarantino
Produced By: Lawrence Bender
Director of Photography: Robert Richardson
Editor: Sally Menke
Production Designer: David Wasco
Costumes By: Anna B. Sheppard
Cast: Brad Pitt, Diane Kruger, Eli Roth, Melanie Laurent, Christoph Waltz,
Michael Fassbender, Mike Meyers, Daniel Bruhl, Til Schweiger, Gideon Burkhard,
Jacky Ido, B.J. Novack, Omar Doom, August Diehl, Rod Taylor
TECHNICAL INFORMATION
Two-Disc Blu-ray(TM)( )Hi-Def Special Edition
Street Date: December 15, 2009
Copyright: 2010 Universal Studios Home Entertainment
Selection Number: 61108483
Running Time: 2 hours, 33 minutes
Layers: BD-50
Aspect Ratio: 2.40:1
Rating: R for strong graphic violence, language and brief sexuality
Technical Info: English HD Master Audio 5.1, Spanish and French DTS Surround
5.1, English SDH, French and Spanish Subtitles
TECHNICAL INFORMATION
Two-Disc DVD Special Edition
Street Date: December 15, 2009
Copyright: 2010 Universal Studios Home Entertainment
Selection Number: 6110154
Running Time: 2 hours, 33 minutes
Layers: DVD-9
Aspect Ratio: 2.40:1
Rating: R for strong graphic violence, language and brief sexuality
Technical Info: English DTS Dolby Digital 5.1, French and Spanish Dolby
Digital 2.0, English SDH, French and Spanish Subtitles
TECHNICAL INFORMATION
Single-Disc DVD
Street Date: December 15, 2009
Copyright: 2010 Universal Studios Home Entertainment
Selection Number: 61108380
Running Time: 2 hours, 33 minutes
Layers: DVD-9
Aspect Ratio: 2.40:1
Rating: R for strong graphic violence, language and brief sexuality
Technical Info: English Dolby Digital 5.1, French and Spanish Dolby Digital
2.0, English SDH, French and Spanish Subtitles
SOURCE Universal Studios Home Entertainment