New Sherlock Holmes Trailer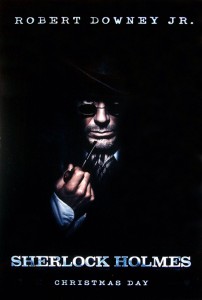 Finally, we have a new trailer for Guy Ritchie's Sherlock Holmes. Once again. I think the movie looks ridiculous. Let's not factor in that Guy Ritchie has yet to make a good film since 2000's Snatch or actually shall we? I'm more upset about the way they have turned Sherlock Holmes into a generic Hollywood good guy. I understand that the wit, the arrogance, and the general untidiness is part of the character. What is with all the giant explosions, and weak gags (throwing a hammer at a behemoth, seriously?).  I'm looking for Holmes to use his brain more than his brawn in this movie, but I'm not sure that is what the rest of the audience wants. I'm sure we'll be treated to the normal blockbuster filled with CG explosions and "witty" one-liners. Although, in the end I could be wrong, and it could be a fantastic film. Let's hope I'm wrong.
Synopsis:
In a dynamic new portrayal of Sir Arthur Conan Doyle's most famous characters, "Sherlock Holmes" sends Holmes and his stalwart partner Watson on their latest challenge. Revealing fighting skills as lethal as his legendary intellect, Holmes will battle as never before to bring down a new nemesis and unravel a deadly plot that could destroy the country.
Starring: Robert Downey Jr., Rachel McAdams, Jude Law, Mark Strong
Directed by: Guy Ritchie
Release Date: December 25, 2009