Win Passes to 'The Box' at a St. Louis Advance Screening
ReviewSTL invites you to enter to win passes to the St. Louis advance screening of "The Box"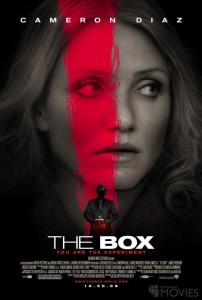 Enter for your chance to win a pass good for two!
OPENS NATIONWIDE FRIDAY, NOVEMBER 6th
In order to enter the contest, simply leave a comment at the bottom of the page telling us what you would do with $1 million (without the consequences of the box). Winners will be chosen at random and notified via e-mail. NO PURCHASE NECESSARY.
Please note that winning passes to "The Box" does not guarantee admission to the film. You must arrive early as seating is first-come, first-served. It is usually safe to arrive at least 1 hour or more before show time!
Good luck! We hope to see you at the movie.
Watch the Trailer:
Synopsis:
Screen siren Cameron Diaz and former X-Man James Marsden star in the supernatural horror picture The Box (2008), directed by Donnie Darko cult fave Richard Kelly. The film's premise involves a strange and ominous box granted to a young couple by a mysterious stranger (Frank Langella). They are informed that pressing various buttons on the box will grant them riches while killing a person unknown to them in the process. Executive produced by Ted Hamm, the film was adapted by Kelly from Richard Matheson's 1970 short story Button, Button. ~ Nathan Southern, All Movie Guide