Adam Sandler and Jennifer Aniston set to star in 'Pretend Wife'
Jennifer Aniston has appeared with a lot of leading funny men since she broke out with Friends. This list includes Ben Stiller, Vince Vaughn, Owen Wilson, and Jim Carrey. She has yet to have a starring role beside one of Hollywood's leading comedy heavyweights, Adam Sandler. Looks like things might be changing.
From THR.com
---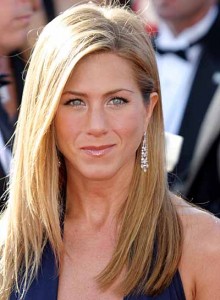 Adam Sandler and Jennifer Aniston might be playing pretend.
Columbia is developing "Pretend Wife," a romantic comedy that would serve as a Sandler vehicle and is in the process of gathering the wedding party.
Aniston is in talks to star opposite Sandler, with Sandler mainstay Dennis Dugan the leading contender to direct the project, though no deals have been made as the studio is figuring out the seating arrangement.
Happy Madison is producing.
The script, written by Allan Loeb and Tim Dowling and once known as "Holiday in Hawaii," is being kept under wraps. Columbia is planning a shoot early next year and eyeing a release on Feb. 11, 2011, the Friday before Valentine's Day.
Heather Parry brought the project into Happy Madison and is shepherding. At Columbia, the project is being overseen by Doug Belgrad and Sam Dickerman.
Sandler, repped by WME and Brillstein Entertainment Partners, next appears in Columbia's ensemble comedy "Grown Ups," produced by Happy Madison and Relativity Media.
UTA-repped Dugan, who has worked with Sandler since 1996's "Happy Gilmore," directed "Grown Ups."
Aniston, repped by CAA and Brillstein Entertainment Partners, has romantic comedies "The Baster" with Jason Bateman and "The Bounty" with Gerard Butler in the can for release next year.
---
From all I've heard Adam Sandler is supposed to be one of the nicer guys working in Hollywood. He makes some terrible films though (I'm looking at you Mr. Deeds and Little Nicky). Every once in a while one of his films shows a glimmer of true comedy, and it makes me optimistic that Sandler might produce something that isn't trying to be Billy Madison or Happy Gilmore.