'The Sorcerer's Apprentice' HD Trailer Starring Nicolas Cage and Jay Baruchel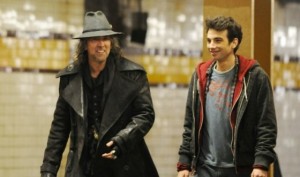 The beginning of this trailer looks so much like the first trailer for Percy Jackson, that I was almost convinced it was going the same way. Luckily it then brought in Nicolas Cage, and pretty much dashed any hope I had of liking this. I think it's been already established on this site that I don't like Twilight, but I can understand why it is popular (to a point). Although what I don't get is why Nicolas Cage is a popular actor? With each progressing role he becomes more and more a caricature of himself. There looks to be some pretty impressive stuff in this film, and I really like Jay Baruchel and Alfred Molina. Which means I can't completely write it off. Let me know what you think in the comments below!
Synopsis:
A sorcerer leaves his workshop in the hands of his apprentice, who gets into trouble when the broomstick he's tasked to do his chores for him somehow develops a mind of its own.
Director: Jon Turteltaub
Cast: Nicolas Cage, Jay Baruchel, Alfred Molina, Monica Bellucci,
Release Date: July 16, 2010