Last Chance to buy tickets to 'Star Wars in Concert' for St. Louis 12/10!
Star Wars will forever hold a special place in my heart. It was the first film I ever saw that made me truly love cinema. If it weren't for those films I would probably not have gone on to watch Kurosawa films, spaghetti westerns, etc. One of the things that set Star Wars apart from Sci-Fi films at the time was its amazing score by John Williams. I am almost positive that you could take a recording of the 'Main Title' theme or the 'Imperial March' to anyone on the street and they would be able to identify it as Star Wars music, even if they had never seen the film. Williams' score resonates through pop culture with a force (no pun intended) that no other film score will ever do. Don't miss this opportunity to see the music played live!
Massive multi-media event features stunning visuals, a live orchestra, choir and narration, plus an exclusive exhibit of Star Wars costumes, props and production artwork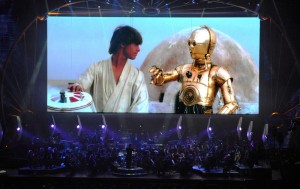 Star Wars: In Concert, a unique multi-media event featuring music from all six of John Williams' epic Star Wars scores, begins its worldwide arena tour on October 1, 2009 at Honda Center in Anaheim, California.
Narrated live by Anthony Daniels (the actor who portrayed C-3PO in all six films), the production features a full symphony orchestra and choir, accompanied by specially edited footage from the films displayed on a three-story-tall, high-definition LED super-screen — one of the largest ever put on tour. The live music and film elements are synchronized in order to create a full multi-media, one-of-kind Star Wars experience.
"We've taken the key themes from the music and cut together all the images that fit with each theme, so you can really get a sense of how the music played into the images," said George Lucas, creator of the Star Wars Saga. "The whole soundtrack is a testament to John Williams' creativity and his extraordinary ability to enhance the emotional aspects of the films."
"Creating the music for the Star Wars films has been an exciting and wonderful experience for me, and I therefore have derived particular pleasure in assembling a compendium of themes from all of the films to be presented in Star Wars: In Concert," said Williams. "The editors at Lucasfilm have created original film montages to accompany each of the musical selections, and in the process, I believe that a singular and unique Star Wars experience has been born."
"This event has been crafted to present Star Wars from many points of view; for the first time, the full dramatic sweep of Williams' iconic scores can be heard performed live in one evening," said Another Planet Touring Producer Spencer Churchill. "The show is a new way of experiencing the epic scope of the saga."
Accompanying the concert is an exclusive exhibit of Star Wars costumes, props, artifacts, production artwork and specially created behind-the-scenes videos from the Lucasfilm Archives. Many of these pieces are leaving Skywalker Ranch for the first time. The exhibit features many classic fan favorite artifacts, as well as several new and never-before-seen items, including:
Full costumes for Jedi Masters Kit Fisto and Plo Koon will be on display.
For the first time ever, pages from John Williams' original hand-written sheet music for Star Wars: Episode I The Phantom Menace will be exhibited for the public.
Also on display will be various never-before-seen props from the films, including blasters and helmets from Coruscant, Tatooine and other iconic Star Wars locations.
For more information, please visit www.StarWarsInConcert.com.
Star Wars: In Concert is produced by Another Planet Touring in association with Lucasfilm Ltd. Performances will be conducted by Dirk Brossé and the production is directed and designed by Steve Cohen. Star Wars: in Concert had its world premiere at the 02 Arena in London on April 10 and 11, 2009 as Star Wars: The Musical Journey.