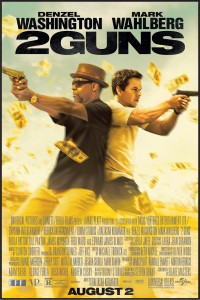 This week on Reel Spoilers our heroes break out their passports, lock and load their hand guns, and head south of the border so we can spoil 2 Guns. 

Check out Blake's review of 2 Guns.
We've made it 7 episodes and they haven't canceled us yet, so we must be doing something right.  Denzel Washington isn't the only one making guarantees (and he makes a lot of them) – we know you'll enjoy it. Also on this episode, Tom regales us with his love and knowledge of Abbott & Costello and gives us a report on whether or not people would rather be spoiled (about the ending's of movies and books.  Otherwise who wouldn't want to spoiled a little bit?).
Also, trustworthy Kevin Brackett gives us the weekend Box Office report and Dan gives us a "Video Recovery" on
You've Been Warned
Reel Spoilers Episode 7: 2 Guns
Starring: Tom O'Keefe, Joe Buttice, Dan Graney, Blake Fehl and Kevin Brackett
Run-time: 57 min
Here is the trailer for Collision Course starring Jay Leno and Pat Morita that watched during the show:

Subscribe to Reel Spoilers: reviewstl.com/category/reel-spoilers/feed/
Want to take Reel Spoilers on the go? Download episode 7 from TalkSTL.com.