Youth in Revolt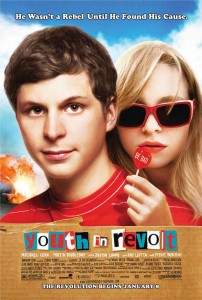 Youth in Revolt might look like another run of the mill Michael Cera movie, but in actuality it is one of his best acted and broadest range shown yet in a surprisingly fun and irreverent farce about fighting for the one you love.
Nick Twisp is your average teenage boy, without a girl, enthralled with sex, and is rather awkward when put in a potential female encounter.  Everyone is of course getting some around him as well, including his divorced parents, which only rubs salt in his wounds.  So when he meets the girl of his dreams, Sheeni, he decides he will do anything to stay close to her as they are torn apart from both sides.  This leads to Nick creating an alternate personality to do what Nick Twisp can't, and his name is Francois Dillinger, and Dillinger is bad.
Dillinger is barely in the film, popping in and out of scenes, for a matter of seconds sometime, but he is endlessly hilarious and shows Cera's range as an actor and gives one hope he can do more than what the studio heads want him to do right now.  It isn't a surprise that Cera can do this to his fans that have seen him fool around in behind the scenes stuff he has done, but he will catch a lot of people off guard.  But this is a good thing and a step forward to Cera breaking out of his shell.  Hopefully we get fresh Cera for Scott Pilgrim next year and more in the years to come, because if Francois is any indication of what he is capable we are in for a treat.
The rest of the cast is also full of strong supporting actors from Steve Buscemi, Ray Liotta, Zach Galifianakis, Justin Long, Fred Willard, Jean Smart, and introducing Portia Doubleday as Sheeni.  There is some real talent here and they are all wonderfully comfortable and hilarious in this world.  Doubleday does a very fine job as the smart and cute female lead and creates an original female protagonist that doesn't really have a type.  Everyone else listed above has much smaller roles, but all take full advantage of their screen time and deliver the laughs.
The films tone is also just the right mix of dark and farce having fun with the genre while remaining entirely original and clever.  The film is also delightfully R rated as I was not expecting that based on the preview.  Anything but tame, the humor is adult and vulgar at times while rarely off putting.  Discussions on sex are a plenty and they don't hold back at all, especially Dillinger.  Some of the humor is probably a bit juvenile at times, but I think it is actually quite honest to a lot of younger boy's thoughts and actions at the same time.
This film has been done for awhile now and delayed a number of times, but don't let that scare you away as I think the studio is more worried about competition and being able to let the film slowly gain an audience with word of mouth, as it will be good, and January should be a good time for that.  And again, the film's marketing is selling it short of what it really is and is far less conventional than it seems.
In the end, Youth in Revolt is a great comedy to start off the year and a great step forward for Cera.  Miguel Arteta deserves credit for adapting an odd novel by C.D. Payne and creating a hilarious and adult comedy about young love.  A supporting cast of comedy all-stars help this film to be populated with wonderful characters around Cera's alter egos, but Francois Dillinger will be the one you most remember.  Fans and non-fans of Cera have will both enjoy this film as it is a fresh look for the actor and there are a lot of other characters for the Cera weary to enjoy.  Youth in Revolt is a good start for the comedy year.
Youth in Revolt is an A-