You Demanded it! Paranormal Activity going nationwide tomorrow!
If you remember, we ran a story last week about Paranormal Activity, and if it got 1,000,000 votes (or demands) it would be released nationwide. Well, it got it, and it will be realased here in St. Louis tomorrow at Wehrenberg Ronnie's 20 Cine, Wehrenberg O'Fallon 15, AMC West Olive, Chase Park Plaza 5, Regal St. Louis Mills and the Kerasotes Showplace. It probably doesn't hurt that it had the largest opening below 200 theaters of all time. This weekend in just 160 locations it grossed $7.9 million. That is almost $50,000 per screen, over three times what this film cost to produce!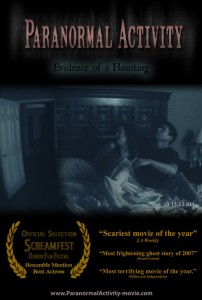 HOLLYWOOD, CA (October 9, 2009) – Following 2-weeks of nationwide midnight only sellouts and fan frenzy over the limited release hit thriller PARANORMAL ACTIVITY, moviegoers everywhere have been heard!
Over 1,000,000 people from around the country demanded the film play in their city by logging on to ParanormalMovie.com. In response, Paramount Pictures will release the film nationwide beginning Friday, October 16th.
Tickets for the movie will be on sale via ParanormalMovie.com by 5pm PST on Tuesday, October 13th. Those who have 'demanded it' will get the first alert when tickets go on sale.
"From the very beginning, we put this film in the hands of the fans and we trusted them to tell us where and when it should be seen. We couldn't be more thrilled by their overwhelming support and we are happy to release the film in every town – big and small," said Rob Moore, Vice Chairman of Paramount Pictures.
The movie Roger Ebert of The Chicago Sun-Times called "an ingenious horror film. It's so well made it's truly scary" is currently garnering 90% on RottenTomatoes.com.
To find show times and to buy tickets in your area, visit ParanormalMovie.com

Follow PARANORMAL ACTIVITY on Twitter at www.Twitter.com/TweetYourScream, where you can find reactions from these screenings and other news about the film. Fans can also post their reactions at Facebook.com/ParanormalActivity.