Roman Polanski Finishing 'Ghost' in Jail
I'm not sympathetic to Roman Polanski at all. What he did was wrong. There is no statute of limitations on wrong. He drugged and raped a 13 year old girl. That is really not a forgive and forget type of deal when no punishment has taken place. There is no denying that Polanski is a talented filmmaker. Creepiness and talent aren't tied together luckily. It seems that Polanski himself hasn't give up hope that he can continue filmmaking.
From THR.com
---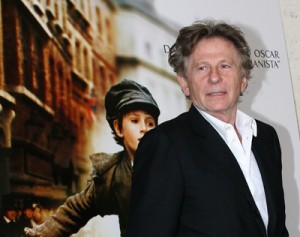 FRANKFURT, Germany — Director Roman Polanski is continuing to work on his new film "The Ghost" from his jail cell in Switzerland and expects to deliver it on time before the end of the year.
"The film will be finished," Henning Molfenter, head of production at Studio Babelsberg and a co-producer on "The Ghost" told THR. "We will meet all our deadlines and all of our obligations with distributors."
Polanski had already delivered a rough cut of the film — an adaptation of the Robert Harris bestseller — before his arrest in Zurich last month on a decades-old sex charge.
Post-production has continued as the director continues to fight extradition to the United States. While Polanski's contact with the outside world is limited, it is believed he is being kept up to date with developments and is able to communicate via telephone with editor Herve du Luze and others involved with the project.
In an interview with The Times newspaper in London, author Harris said Polanski wants to finish "The Ghost" in time for a planned premiere at the Berlin International Film Festival in February.
Molfenter would only confirm that the producers are "in regular contact" with Berlin.
"We are aware of the film and we look forward to seeing the finished product," said the Berlin Festival's head of press Frauke Greiner.
It remains to be seen whether the publicity tsunami that has surrounded Polanski's arrest will help or hurt the film. "The Ghost" is the story of a former British Prime Minister, played by Pierce Brosnan, who is accused of war crimes. Ewan McGregor plays a ghostwriter who uncovers his dark secret after he is hired to complete the Prime Minister's memoirs.
"Whether the film can rise above the circumstances in which (Polanski) now finds himself I don't know," Harris told The Times. "We will test to the upper limits the notion that there's no such thing as bad publicity."
Swiss authorities arrested Polanski, 76, on a U.S. warrant stemming from his 1977 charge of having unlawful sex with a 13 year-old girl. The director fled the U.S. in 1978, fearing the judge was going to toss out a plea bargain and send him to prison for up to 50 years. He has remained in France every since, refusing even to fly to L.A. to receive his best director Oscar for "The Pianist" in 2003.
His imprisonment has inflamed passions on both sides of the Atlantic. Several prominent political and film industry figures, including French Culture Minister Frederic Mitterrand, Weinstein Co. boss Harvey Weinstein and Cannes Festival director Thierry Fremaux have called for Polanski's immediate release while many pundits and commentators around the world are demanding he be send back to the U.S. to face trial.
---
I'm wondering what the reception of this film will be. It could be the greatest film of all time, and it wouldn't matter. Hollywood seems more willing to defend him than the public, but most people see him as creepy pedophile, so it isn't going to perform admirably at the box office. Although, I was surprised that The Pianist did as well as it did, and garnered as much praise as it did. I guess you just can't count out good films.