Yogi Bear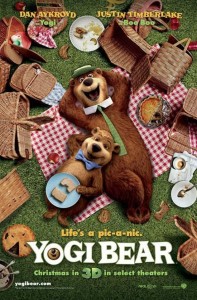 Yogi Bear is a movie that I had absolutely no desire to see.  The posters were kind of creepy looking.  The trailers were not funny in any way.  And it kind of annoyed me that they headlined the poster with Justin Timberlake's name even though his voice is in no way recognizable in the role.  I sat in the theater and decided that maybe I will enjoy it more if I just get in the right mindset.  I just needed to see the movie as if I was a ten year old.  I can tell you that seeing the movie in this way did not help at all.  Yogi Bear is just not a good film.
Jellystone Park has been losing business, so greedy Mayor Brown decides to shut it down and sell the land. That means families will no longer be able to experience the natural beauty of the outdoors — and, even worse, Yogi and Boo Boo will be tossed out of the only home they've ever known. Faced with his biggest challenge ever, Yogi must prove that he really is "smarter than the average bear" as he and Boo Boo join forces with their old nemesis Ranger Smith to find a way to save Jellystone Park from closing forever.
There are a lot of things that I can complain about with this.  But I am just going to stick with one aspect.  The movie is not funny.  And I am not saying this as an adult.  I am saying this as the ten year old within me.  I expected the film to be juvenile and silly, but I still think that it can be funny.  About a month ago, I saw Megamind with an audience that was very similar –   lots of kids and parents.  And the kids in that film laughed consistantly throughout.  Not the same in this one.
I understand that it's the holidays, and parents are looking for a film that they can take the whole family to enjoy.  This is not the film to see that both parents and kids will enjoy.  I didn't enjoy it all that much, but I would suggest seeing Narnia before this film.  Parents look around, there are plenty of films to check out.
I give Yogi Bear an F.