"Gravity" Finds a Co-Star for Sandra Bullock in George Clooney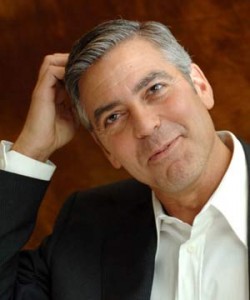 Alfonso Cuarón is a very talented director to say the least.  He directed Harry Potter and the Prisoner of Azkaban which some consider as the best film in the franchise.  He also directed Children of Men which is a personal favorite of mine.  So it's hard for me to believe that he has had a decent amount of trouble getting his newest film, Gravity, off the ground. 
The film tossed around leads for a while before settling on Sandra Bullock as the female lead.  Robert Downey Jr. was attached for a while before he left the project due to scheduling.  RDJ's replacement has been found, and only another top notch star could fill the shoes he left void.  George Clooney is now signed on to play opposite Bullock.
The film follows two survivors of a space mission to repair the Hubble telescope.   After an asteroid destroys the station, Ryan (Bullock ) desperately tries to return to Earth and reunite with her daughter.  Clooney will play the space station team leader.  The film will begin production in late April / early May with a release date sometime in 2012. 
Clooney or Downey Jr.?  You decide and let us know in the comments below.