"Limitless" HD Trailer Starring Bradley Cooper, Robert De Niro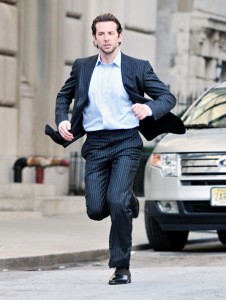 I like Bradley Cooper, and director Neil Burger's The Illusionist was one of my favorites of 2006 that was severely under-rated.  The trailer is not bad.  Everyone wonders what it would be like to reach their potential so let's see what Cooper's is.
Synopsis: A copywriter discovers a top-secret drug which bestows him with super human abilities.
Starring:  Bradley Cooper, Robert De Niro, Abbie Cornish
Directed by: Neil Burger
Genre: Thriller
Release Date:  March 18, 2011
[hdplay id=242 width=595 height=375]