Tim Reviews "The Fighter" Starring Mark Wahlberg, Christian Bale, Amy Adams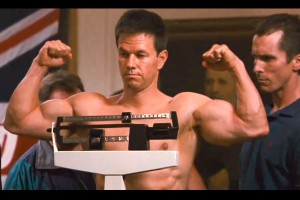 I love watching movie trailers.  I immediately have to see the newest ones when they hit the web, and I pride myself on my ability to name the movie within seconds of the trailer.  I am a movie geek, so what.  Unfortunately, most trailers these days show you almost the full story within those 2 minutes and 30 seconds.  When I saw the trailer for The Fighter I felt like I knew the whole thing.  I knew the characters.  I knew the story.  I knew the emotional punch.  I walked out of The Fighter thinking that it doesn't matter if you have the script memorized because the film is so entertaining and great.
The story of boxer "Irish" Micky Ward and his trainer brother Dick Eklund.  The film examines how Micky's family gets involved in his boxing career including his mother who is his manager and five sisters who always have to add their opinion.  Micky and Dick grew up on the rough streets of Lowell, Massachusetts where Dick battled with drugs before taking a stint in jail.  Micky overcame the personal obstacles he had in his quest for a world title.
To say that the performances in this film are phenomenal would be an understatement.  Like I said, you know how this movie ends.  I'm not going to give you the exact details in this review, but I am sure you could take a pretty good stab at it.  Knowing this going into the movie makes these performances that much more special because they make this film outstanding. 
Melissa Leo, Amy Adams, and Christian Bale deserve all of the nominations and awards that they are receiving and are bound to receive.  They each become fully immersed in their characters that you can't help but be amazed when you leave the theater and think about what they just did.  Obviously, Bale has received far more attention for his role due to his dramatic weight loss, but Leo and Adams are just as terrific.
I have mixed emotions for Mark Wahlberg in this film.  When I hear him talk on radio and television interviews, I am happy that he finally got this movie made after a five year wait.  It's amazing that he stuck by it the whole time, and that really shows what kind of person he is.  It's also great that the film is getting the nominations that it is.  Unfortunately, all three actors I mentioned above far outshine what he does in this film.  Wahlberg is not bad by any means, but this is a role that he is meant to play.  I am sure he doesn't care about all that though.
The Fighter is a movie that needs to be seen even if you think you already know the film.  It's funny, sad, exciting, and gut wrenching all at the same time.  It is a film that I really loved and look forward to catching it again some time soon.  This is a movie that will land very high on my list of favorite films of the year.
I give The Fighter an A.