"Yogi Bear" HD Trailer Starring Dan Akroyd, Tom Cavanagh, Justin Timberlake, and Anna Farris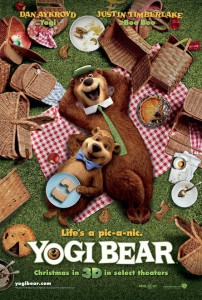 Wow…..
Really,  that is pretty much all I can say for this trailer. I feel embarrassed for everybody who is in this. I especially feel bad for T.J. Miller who went out of his way, and videotaped himself doing lines with a real life bear.  (The video is below the trailer.)  I feel absolutely mortified for actors who I respect like Dan Akroyd, Justin Timberlake, and Tom Cavanagh to be in something like this.  There was not one single joke in this trailer that didn't make me cringe in this trailer. I'm pretty sure they have alienated anyone but the three and under audience.
Am I being to harsh? Let me know in the comments. (Or if you think I'm right, feel free to rip it apart too.)
Synopsis:
Jellystone Park has been losing business, so greedy Mayor Brown decides to shut it down and sell the land. That means families will no longer be able to experience the natural beauty of the outdoors — and, even worse, Yogi and Boo Boo will be tossed out of the only home they've ever known. Faced with his biggest challenge ever, Yogi must prove that he really is "smarter than the average bear" as he and Boo Boo join forces with their old nemesis Ranger Smith to find a way to save Jellystone Park from closing forever.
Starring: Dan Aykroyd, Justin Timberlake, Anna Faris, TJ Miller, Justin Timberlake
Directed by: Eric Brevig
Produced by: Donald De Line, Karen Rosenfelt, Andrew Haas
Genres: Comedy, Kids/Family, Animation and Adaptation
Release Date: December 17th, 2010 (wide)
[hdplay id=92 width=595 height=375]
[hdplay id=93 width=595 height=375]