Tom Hardy Joins "This Means War" With Chris Pine and Reese Witherspoon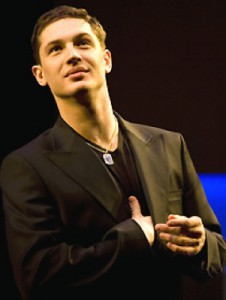 Tom Hardy, who enjoyed lots of critical praise last year for his work on Bronson, is now enjoying commercial praise in Christopher Nolan's thinking man's blockbuster, Inception.  The actor is also set to be in another blockbuster film, the remake of Mad Max, later this year.  Now the rising star seems to have taken a role right under last year's golden boy's nose, Sam Worthington.
Tom Hardy has signed on for This Means War, co-starring Star Trek's Chris Pine and Legally Blond's Reese Witherspoon.  This Means War is about two best friends, played by Hardy and Pine, who go to war over a woman, played by Reese Witherspoon. It may not sound like such a big deal, but what if both men were very talented spies, and used every piece of their arsenal to ensure they ended up with the woman of their dreams? Well, you'd have a big mess on your hands.
Sam Worthington was initially offered the role, but never officially singed to it.  The role would have reunited him with Terminator Salvation director McG. When Worthington did not sign, the studio brought in Hardy for the role.
I have some misgivings about this film, and they mainly reside with McG and Witherspoon. For some reason, I can't picture Witherspoon as a woman two men would war over for, despite her being incredibly cute. Although, the biggest fear I have is McG, who never seems to fully be able to capture what he is going for on film. (For reference watch last year's Terminator Salvation.) Although, the hiring of two charasmatic leads makes this a project that is slowly becoming more intriguing. The casting of Pine, who showed great amounts of swagger in last year's Star Trek, really piqued my interest.  Worthington just doesn't do it for me. I don't know if it is his Australian accent he can't quite seem to get rid of, but Hardy seems like a better choice. (As the producers of Mad Max decided also. )
What do you think? Let us know in the comments!