YO GABBA GABBA! Returns to the Fox Theatre for MUSIC IS AWESOME! Interview with Creator Christian Jacobs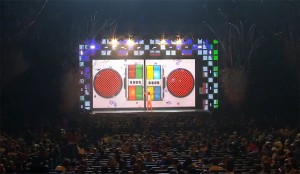 Yo Gabba Gabba! Live! returns to the Fabulous Fox Theatre on Wednesday, November 12 with the new Music is Awesome! tour.
Tickets start at $30.50 and are on sale now at Metrotix (buy tickets here or call 314-534-1111), or in person at the Fabulous Fox Box Office.
---
If you and your kids watch Yo Gabba Gabba! and haven't been to a live show yet, there is no better time than the present (check out our review from the It's Time to Dance tour)! We had the chance to chat with Christian Jacobs about the awesome ride that is the Yo Gabba Gabba! Live! tour, how the show compares with his time in The Aquabats, and what we can expect when the show comes to town next week.
Kevin: What is different in the now show compared to the previous Yo Gabba Gabba! live tours?
Christian:
Well I think in the beginning, Scott and I, and Lance, got together and really wanted to make a children's live show that was different than a lot of the shows that were out there. They're kind of like a musical, or a lot of narative, and it becomes music inbetween the dialogue or helping to tell a story. And we all felt like the television show does that already. Let's just bring out the songs and do a concert.
Let's make it like a concert for kids. Make it like a rock concert. Then you have Biz Markie that comes out, and bands, and "Dancey Dance" guests. Keep it flowing, and keep it fluid and don't put a lot of lag time in it. That was something we really wanted to do from the beginning. And as the tours went by, we were kind of forced to change things up. Especially the last tour, which got more and more narrative – the Christmas tour last year. That kind of felt like we'd gotten to that point where we're telling a story, with a lot of dialogue, and we're waiting for Santa Claus. It was one of those things where in editing the DVD, that's actually coming out for the tour, we really loved how it turned out but we felt like we kind of turned into the thing we didn't want to turn into. We were telling a story with music, rather than just being about the music.
So I think this tour we've gotten back to more of the original formula. Let's do a rock concert again, or let's do another big show. And so there's new songs, of course there's always the hits, like: "Party in My Tummy," and "Get the Sillies Out." And so there are things that are the same, because they work so well. But then there's a lot of new songs, like 7 or 8 new numbers. So it feels like we kept a lot of the things that worked, and then we've trimmed the fat, so to speak. We've gotten right to business on this tour.
K: I've noticed you keep the audience so engaged in these shows, and the kids are so entertained. And the adults are having just as much fun.
C: I love to see the cross-section of people that are there. There are just so many different people, and ages, and creeds and colors, and it's really fantastic. Scott and I are just both blown away at the universal response and vibe that we get in the show. It's pretty awesome.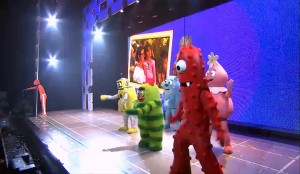 We keep that in mind, because originally in making Yo Gabba Gabba!, Scott and I, we had kids of our own and we know what it is like to experience a kids live show. We know what works, and we know what is disappointing, and so we designed this tour definitely to be something that was good for all of us. Not just our kids. In the same way that in Yo Gabba Gabba! the television show, we have our tastes in mind as dads and as parents. We know what drives us crazy about certain kids shows, and similarly in the live show what works and what doesn't. And that's what we wanted to really do with this show, is make a show that works for adults just as well as the kids. Don't leave the adults and parents out of the mix, but actually try to make a concert, basically, that would work for adults but the songs are aimed at kids. And that's really what we do with the television show.
K: With the TV show, it seems like a natural progression to the live stage. It works so well on both levels. I can really tell that everyone is having a blast at the live shows.
C: Thanks, it's really exciting that it's working. That means a lot, because we're empathizing with the parents, and there are a lot of things out there that just don't resonate with them – but the kids like it. And that's cool, and we're happy to see our kids happy. If the kid likes it, and they're having a good time, then great. But at the same time we're there, and how much better of an experience is it when we're just as excited as our kids. It just feels like such a better experience to bond with your kids, and laugh. "There's Muno, and oh man my favorite. Here comes Brobee, and what are they doing now? Oh I love this song," and you sing along with your kids. We've done two DVDs now, and the Holiday Show DVD is coming out this tour, and it's fun to watch the reactions of the kids. Because a lot of times their mouths are just open, and it's like they're just trying to process it. It's just blowing their minds, and I think that part is really fun. We search the footage for kids that are really energetic, and jumping around, and I think the majority of the footage is kids mesmerized and can't believe this is happening.
K: You have a lot of experience with concerts, and put on a really fun show with The Aquabats. How much of that experience do you bring to Yo Gabba Gabba! Live!?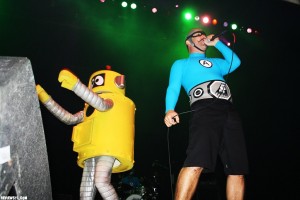 C: I think a lot. Myself, and Scott, and Lance – we've all been in touring bands, and we've all had experience doing live shows. Scott's dad directed a variety show, and he toured as a kid. So I think we've all coupled our experiences together for live touring. I think even just right down to how we interact with the crowd, and how we want the characters to connect to the audience, a lot of that definitely goes into the show.
And for me personally, doing the Aquabats now for 20 years, it's definitely more of a punk, kind of low budget type of a thing. We're trying to do as much as we can, with as little as we have. And with Gabba!, we have such a great blessing and it's been really fortunate we've been able to do a lot of bigger things. Out of the gate, it's "I've always wanted to do this," and we spray the crowd with confetti, and "let's get 5,000 balloons and drop them on the crowd." There's definitely some prohibitive costs that we've ran into with The Aquabats, but we've had the opportunity to do really fun, cool stuff with Gabba! that I've always wanted to do.
K: I saw the Aquabats when they toured with Reel Big Fish, and you guys definitely know how to work a crowd.
C: Literally, we just finished a tour last week and I flew straight to North Dakota to start on Gabba! With Aquabats, we've had a great time and it's been really fun touring. I think my voice is still recovering from that tour.
K: The television show has been on since 2007. It has obviously become a huge pheonomenon, probably more than in your wildest dreams. How did you and Scott decide to take the show on the road?
C: There were a numbers of years that we'd been developing the show before it actually aired, and I think that was always a topic of conversation that would come up at times. In our wildest dreams, the show will air and people will love it, and we'll put out some CDs and DVDs, and we'll take it on the tour. And we'll do "Gabba! on Ice" – we always joke around about stuff like that. So it was always right there, as a natural progression.
What's interesting is that we weren't sure when would be a good time. I think we were like, "let's do it right away," with touring in the Aquabats and doing clubs. We were ready to take it on the road really quickly. But then we realized that it was going to be hard to transport all the characters, and it's definitely a bigger production. So we were just kind of waiting for the right time, which we didn't know when.
In Australia, Yo Gabba Gabba! is huge, and blew up really, really big. A company there in Australia in 2009 called us, and said they thought the timing was right and would like to do the live tour there. And we started developing the live show, and the first tour we did was actually in Australia, summer of 2009. And I think that is where we really figured out what worked, and didn't work. Then we brought it to the states in Fall of 2009 with a lot of the stuff we learned from that tour.
It had always been our dream to take it on the road for sure, and it's been really great.
K: What were some of the biggest struggles you faced in converting the television format to the live format?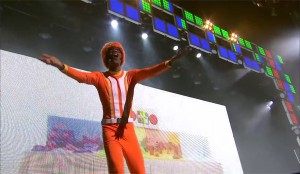 C: Definitely the size and scale, and then moving it. With the television show, we build the set and it stays there. Because it is so huge. The characters are really big in real life, and we're there for a few months shooting and we don't go anywhere. Everything is all in the same spot. But with the live tour, every day you move to a different city and those characters are big. How do you transport the sets?  The whole LED wall thing, the screen behind us, has been really the solution to that. The set comes with us on the television behind the characters. But even then, any props we've been using on the live tour, the behind the scenes and the choreographers and stage managers. Getting everybody mobile – that's always the hardest.
Being in the Aquabats, we're five guys and a couple of friends. You can go in a van, or in a trailer. It's relatively easy to move in and out of venues. But again, it's the sheer scale of everything that's the trickiest part. "OK, we've gotta be here at this time, and we're doing two shows today." Normally with the live tour, you do two shows in a day, so you've gotta get there, get your crew there really early to set everything up, and it's a lot of stuff. All the lights, the LED wall, props. There are a lot of moving parts, and they're BIG moving parts.
K: On the tour, you bring "The Super Music Friends Show" with you. One of the people we saw in St. Louis was Steve Ewing from the Urge, who of course is from here. Do you get people from the different cities to be a part of the show, or how does that work?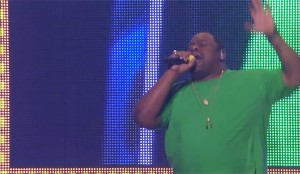 C: Yeah, that's what we felt like works the best. If people are around, we'll reach out to them. Sometimes we are crossing over, and we'll be in a town that another band is in town, and we'll call them and say, "hey, wanna come down and play a song?" When we are in New York the Roots will come out. We've had Lauren Hill. One year we were in New York and we had one show when Dinosaur Junior happened to be in town and did "Super Music Friends," and the "Dancy Dance" was Darryl McDaniels from Run DMC. Dinosaur Junior and Run DMC in the same show blew my mind, and couldn't be better.
For the most part, we'll go to local acts and see who's around and who can be a part of the show. But there have been times where, for instance, we have "Super Music Friends" acts traveling with the tour. We've had the Aquabats, we've had a band called Steel Train. Mike Park, from a band called Skankin' Pickle, was a big part of one of the tours. They'll travel with the show. This tour we're doing a little bit of both. So we have one our two groups traveling with the show, and we also have a number of local
bands from different cities that we've lined up.
It will be a surprise, whoever it is. And sometimes it really is a surprise. The day before we won't have somebody booked. We'll be calling around, "Hey man. Hey. What are you doing? Oh we're busy, can't do it." And last minute, someone will show up. That happened with Lauren Hill in New York one year. We didn't have anybody, and didn't know what would happen. We heard a rumor Lauren Hill was coming to the show, and someone got a hold of her on her way and asked if she would mind coming out and doing something for the show. She was like, "For sure, I'll be there," and it was awesome.
K: Do you and Scott tour with the live show?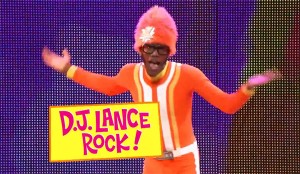 C: When I was on the tour with the Aquabats, of course I was there for all the show. But for the most part, we get the tour going, get it started and we'll go for the first week or so. Then we'll travel out to select shows and make sure everything is running smoothly. We don't necessarily go on the whole tour – not normally. At this point, I don't want to say it's running itself, but everyone kind of knows the drill. We've got some seasoned live vets.
It's been fun developing this tour, and being here at tech. We're gonna see most of this tour all the way through. We're excited, and Lance is excited to be back in St. Louis where he is from. We're excited to be there with him.
---
About Yo Gabba Gabba! Live! —
The new live stage show marks the 5th anniversary of the live tour.  Yo Gabba Gabba! LIVE! Music is Awesome! will be directed by Yo Gabba Gabba! creators Christian Jacobs (The Aquabats) and Scott Schultz (Majestic). DJ Lance Rock, (Lance Robertson, St. Louis native and founding member of psychedelic electronic pop band The Ray Makers), the colorful cast of Yo Gabba Gabba! characters, fan favorite Leslie Hall and beat boxing legend Biz Markie will return to the road together to perform for more than 200,000 enthusiastic fans on a 30-city tour.  The Yo Gabba Gabba! LIVE! Music is Awesome! tour is produced by S2BN Entertainment in association with DHX Media.