XFL: BattleHawks season opener bus deal, fan fest on Saturday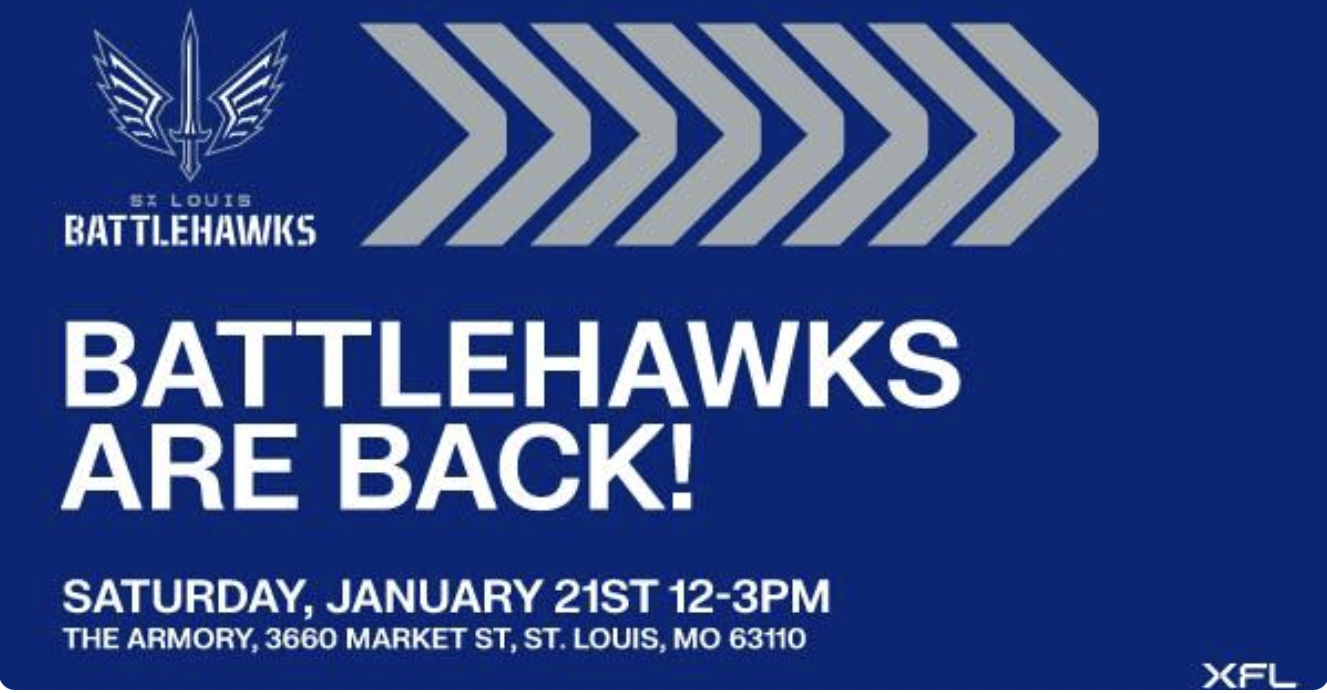 The temperatures may be chilly, but the St. Louis BattleHawks news is heating up.
The team is holding a fan fest on Saturday, Jan. 21 from noon-3pm at the Armory STL to celebrate the upcoming 2023 season.
The event is free and open to the public. Fans will be able to enjoy a variety of football activities, giveaways, autographs, and fun. Season ticket holders will have a special access opportunity.
St. Louis Battlehawks Head Coach Anthony Becht will be attending the Fan Fest and is scheduled to be joined by the following players:
Jonathan Alexander, Defensive Back
Marcell Ateman, Wide Receiver
Travis Feeney, Linebacker
Steven Gonzalez, Offensive Lineman
A.J. McCarron, Quarterback
Lakiem Williams, Linebacker
Meanwhile, there is an opportunity for BattleHawks fans to take part in the Texas Takeover! It's a bus trip to the season opening game in San Antonio.
A 50 passenger, luxury bus will be traveling to San Antonio on Friday, Feb. 17. The bus will depart around 10 p.m. from River City Casino.
The press release states:
Join us in Arlington to support our former head coach in the league's inaugural game, RENEGADES/VIPERS, and our beloved BATTLEHAWKS in San Antonio for their season opener against the BRAHMAS.
50 passenger capacity
$110/seat for roundtrip transportation
Hotel and game tickets are TBD/On Own.
Itinerary (subject to slight change)
Friday, 02/17/2023
10PM Loadup @River City Casino
Saturday, 02/18/2023
10AM Arrival @TBD Hotel in Dallas/Arlington Area
12PM Arrive @Choctaw Stadium in Arlington
2PM VEGAS VIPERS vs ARLINGTON RENEGADES Game
6PM Arrival at TBD Hotel in Dallas/Arlington Area
Sunday, 02/19/2023
6AM Hotel Breakfast
7AM Depart for San Antonio
12PM Arrive @Alamodome
2PM STL BATTLEHAWKS vs SAN ANTONIO BRAHMAS Game
6PM Depart for STL
Monday, 02/20/2023
10AM Arrivial at River City Casino
Sponsorships are available as well.
For more information visit
https://www.eventbrite.com/e/texas-takeover-stl-battlehawks-fanatics-invade-arlington-san-antonio-tickets-519193370347 fbclid=IwAR0vkhUCjm98tKxf_tuQo0fp_3zyMcCDvEKljPkKLOeigkX2q-EYTHCusTA