Interview: The Trophy Mules' Corey Saathoff talks band's new album, overcoming health issues, and KDHX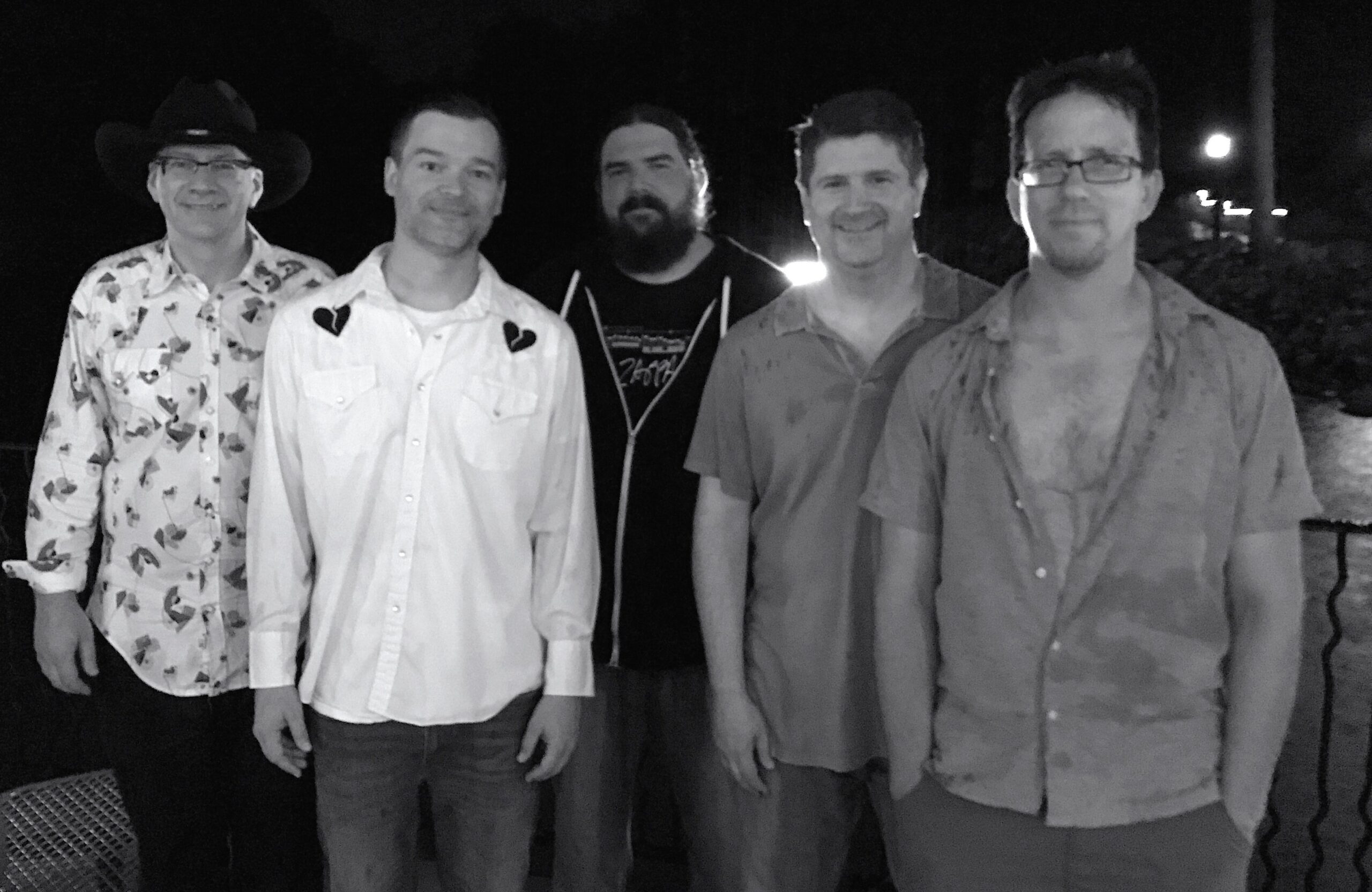 Corey Saathoff has been a fixture on the St. Louis music scene for 25 years. He got his start playing in Jerkwater Junction, then fronted Brain Regiment. In 2009, he formed The Trophy Mules and the band has been a staple of the St. Louis music scene since.
In November, Saathoff's band released it's third full-length album titled "No Sooner Than the Moon." The album features 12 original songs, 9 written by Saathoff. Keyboardist/guitarist Josh Kean wrote 3.
While the band's sound in the previous two albums could be described at country, or rock-folk, the new effort is a departure. It definitely has a more sorrowful and celestial sound. The vocals have a reverb, soft, and unearthly sound to them. It's quite the departure from past efforts by the group.
Saathoff recently took some time to talk about the new album, performing in St. Louis over the years, and the health issues that almost ended his singing career
"I've been performing in and around St. Louis for about 25 years," Saathoff said. "My first live performance was at a VFW hall in rural South Central Illinois for a guy's birthday party when I was in my first band Jerkwater Junction. We were practicing at the drummer's place one Saturday when a few of his buddies dropped by and asked if we could perform that night for free beer. We played 10 or 11 songs, one of which was "Yellow Submarine" by The Beatles. The second live performance came shortly after on the Montgomery County Courthouse grounds in Hillsboro, Illinois as part of a farm and tractor show. We opened for a youth karate demonstration and got paid with pizza."
Saathoff's influences are vary in genre and style. From early REM to Uncle Tupelo. If you listen to some of Saathoff's early Brain Regiment music, he sounds like Jay Farrar of Son Volt, also an influence of Saathoff's. He also cites Bob Dylan, The Beatles, Hank Williams Sr. Gram Parsons, The Byrds, Guided By Voices and Merle Haggard as influences. With such a wide array of artists, it's easy to see how Saathoff can go from fronting a band like Brain Regiment to The Trophy Mules.
While St. Louis used to have a thriving local music scene, Saathoff says that has changed.
"I'm not seeing much of a music scene," he said. "That needs to change. Local bands need to support and promote each other and attend more gigs themselves, myself included, to build it back up again."
Like a lot of musicians, Saathoff has played in multiple bands and admits that he grew musically with each group.
"My first band was ambitious but, at least for me, the talent wasn't there yet in Jerkwater Junction" he said. "I was just starting out on guitar and vocals and still learning how to write songs. With Brain Regiment, I was improving and starting to delve more into indie rock by trying something different than the Americana-country-folk thing. To me, The Trophy Mules are a hybrid musically of my prior two bands… kind of an indie-Americana or alternative-country-folk-rock thing. I'd like to think the music is getting better all the time."
The Trophy Mules have seemed to stand the test of time, having been together since 2009, something that Saathoff contributes to his 'never quit' attitude.
"Probably me being stubborn," Saathoff said. "I've been blessed to have worked with some of the best musicians in the St. Louis area over the past 12-plus years. I think just having like-minded individuals focused on the common goal of creating good music is the reason we're still going"
When talking about the band's new album, 'No Sooner Than the Moon,' Saathoff said 'No Room to Fly' was one of the more difficult songs for him to write due to some health issues he was dealing with.
"I was dealing with a severe throat issue that left me unable to sing," he said. "I still pushed myself to write a song, without much of a voice, and with politics pervading on pretty much every medium, that's what came out."
Saathoff said he wasn't sure what would happen with his voice, which was pretty scary.
"That was a pretty dark period for me," he said. "The uncertainty of my health in general and then my singing in specific made for stressful times. It took several medical folks to rule out what it wasn't and then finally determine what it was to put me on a path to being able to sing again."
Saathoff said his his voice is still a work in progress and hopes it to be back to where it once was someday soon. In order to get it back to where it is now, he had to undergo physical therapy and change some habits.
"It was a combination of acid reflux issues and muscle tension dysphonia that came to an ugly head all at once," he said. "I had to really change how I eat, how I sleep and take prescribed medications. I had to do some physical therapy to get the muscles near my voice box to work OK again – really just to even talk right at first and then to sing. These are all things I still do to keep from this reoccurring. My voice still isn't back to where it once was, but it pretty close."
When making the new album, Saathoff admitted it was quite the process due to his health issues and Covid.
"The process for recording "No Sooner Than the Moon" was a marathon," he said. We started just prior to the COVID pandemic and then got held up by that and my throat/singing issue. So, it was a good five-year-long project. We recorded at our pedal steel player Scott Swartz's home studio in Chesterfield, Mo., known as Filament Glow Recording. Scott's a wizard! "
Over the five-year period, the band really came together and really meshed, working off of each others strengths.
"I think it just came down to trusting the skills of the band members currently in this band and utilizing their respective mix of influences," Saathoff said. "The addition of Josh Kean a few years ago brought new elements to the party. Three of the songs on the album are his – plus he introduced piano and keyboards to our musical palette. And with Scott Swartz, he can do some different things with pedal steel guitar outside of the traditional country sound that were worth showcasing. Plus, both of those guys play a mean electric guitar."
While the pandemic signaled the end for a lot of businesses and bands, Saathoff said that while it was a struggle, the guys got through it.
"I'd say it was pretty tough," he said. "We couldn't play out really at all – other than some intimate acoustic duo gigs – and rarely could we even get together to practice. But we stayed in touch and slowly moved our recording process ahead. We're all still alive and well and playing together, so that's the main thing."
The Trophy Mules can be heard on local radio station KDHX. The station has been a godsend for local musicians throughout the years and Saathoff is grateful that the station plays his bands music.
"I can't say enough good things about KDHX 88.1 FM in St. Louis," he said. "They give local songwriters like little old me a chance to be heard and for that I am eternally grateful. I've discovered so many artists – local, national, international – by listening to KDHX over the years."
Saathoff urges music fans to support the station because it's a great outlet for local musicians to be discovered.
The Trophy Mules new album can be found on iTunes, Apple Music, Amazon, Spotify and Bandcamp along with several other platforms. The band has opened for Shooter Jennings, Chris Knight, Wayne 'The Train' Hancock, Deadstring Brothers, and Marah and Bobby Bare Jr. among other acts.
Check out the band's website thetrophymules.com for more information on where to catch the band live and where to find their music.