Read a WWE Fan's Christmas Wish List Before You Watch the TLC PPV Online Tonight (2013)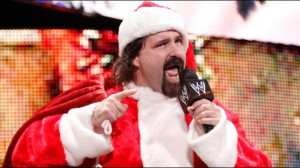 Can the WWE end the year on a good note? In what has been an otherwise crappy year for wrestling, will fans finally get a pay-per-view worth paying for? I am skeptical, to say the least. With Christmas being just weeks away, here is a Christmas wish list from a diehard wrestling fan.
I am all for unifying the titles. Smackdown is super boring. I rarely watch it live to avoid falling asleep. So, I am happy that I am supposedly getting this first gift. However, I'm not sure I like the way it's going down. First of all, tonight's TLC show will mark the WWE's final PPV of 2013. That's probably a good thing, given the list of turds the company has put out the last few months. Maybe it's an early Christmas present to wrestling fans or perhaps it's because WWE needs the ratings, but for better or worse, we are getting a title unification match.
Here's my problem with what the WWE is trying to sell tonight.
Watch the WWE TLC Pay-Per-View Streaming Online.
The problem is that this is a match that should have had months of buildup, and most likely happened at WrestleMania 30. Instead, the match has been given little thought and been thrown together with even worse planning. The combining of two titles should be treated like a once in a lifetime event, similar to what the WWE did 12 years ago. It should feature the two top stars in the company. While, yes, John Cena is probably the top star in WWE, he is not over with the fans. Randy Orton is certainly not the top star. Orton is a major player in the wrestling industry, and very talented at that, but he is not worthy of being the unified champion, and that's not a knock on him personally. He was basically handed the WWE title, and has done nothing to show that he deserves the belt. He never cleanly beat Daniel Bryan in any On the other hand, Cena vowed to return from injury and win the World Heavyweight Title, which he did. He vowed to bring legitimacy back to the World Heavyweight Title, which he did not. It's not his fault though, I mean he's only had the title for 45 days. Now, things could get very interesting if Cena makes a heel turn. Monday Night Raw ended with a bang, as Orton got pedigreed by Triple H after he ran over Stephanie McMahon. It looked as if Cena was siding with The Authority. This would be a way to get fans back on board. I won't hold my breath though, as the WWE seems to have its' own agenda lately, which isn't best for business.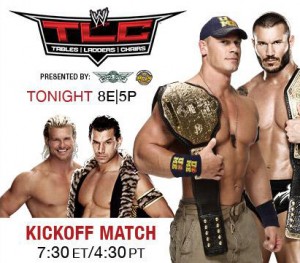 Secondly, if the WWE wants to make TLC a good pay per view then here is what they need to do. First things first, break up The Shield. As each week passes, they lose more and more heat. Roman Reigns is ready to be a top babyface in the business. Dean Ambrose is ready to be a top heel in the business. There have been tiny hints in promos and matches of the group slowly crumbling from within, such as Ambrose cutting Reigns off the other night on Raw when The Shield was giving their promo. This event alone could save what has been a crap year for the company.
Another thing the company could do is give Daniel Bryan the title. I love the Wyatt Family, but stop this ridiculous feud with Bryan. He is being wasted. He is the most popular wrestler in the company right now, so put the belt on him! As much as The Authority talks about business, Daniel Bryan as champion would be good for business.  Stop putting Bryan in main events of pay per view's only to screw him over. The company is starting to insult the intelligence of wrestling fans.
Number four on my wish list has to do with The Big Red Machine, god that is such an awful nickname. The WWE needs to revamp the Kane character before it's too late. Corporate Kane, really? Talk about insulting a wrestling fans intelligence. This is one of the lamest and dumbest story lines ever.
Finally, if we are talking about revamping a character, let's discuss C.M. Punk. His character has become predictable and boring. The whole pipe bomb thing is done and over with, the WWE and Punk have ridden it out as far as they can. Punk is a top notch wrestler and great on the mic, there's no denying that, but his character is stale. I almost think he needs to go back to being a heel. I'm not sure how to work this, as I am not a writer for the WWE, but something needs to be done.
So, in closing, if there is someone out there reading this, hopefully this Christmas season will bring a change for the better to the WWE. After all, the road to WrestleMania 30 is right around the corner. The Undertaker should be returning very soon to start a new feud, and hopefully his final Mania match, as the Dead Man has gotten old. Brock Lesnar will soon be returning as well, which is a good thing if the WWE uses him properly as the monster that he is. With rumors swirling of possible Goldberg and Hulk Hogan returns, as well as the possibility of A.J. Styles coming over the WWE, 2014 could be a banner year for wrestling, but then again, I thought the same thing about 2013.