Wrestlemania 29 Review: John Cena Beats The Rock to Become WWE Champion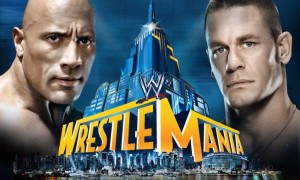 After watching Wrestlemania 29 last night, one would figure that the WWE would have put on a better show. I'm not saying the WrestleMania 29 was bad, but it wasn't incredible either. Thinking back to the pay-per-view, I'm left with a glass half empty feeling.
One of the main problems for me was the crowd. The crowd just didn't come off as being into the event. That could have been because of the size of the stadium, or the fact that it was an outdoor venue, but something did not click with the crowd of Met Life Stadium.
Another major problem that I had with the event is that a title match was left off the card. The Miz defeated Wade Barrett to capture the Intercontinental Championship. With The Miz being a former WWE Champion, I would have thought he would have at least been on the nearly 4-hour show. That is bad booking on the WWE's part. The WWE also left off a mixed tag match featuring the Tons of Funk with the Funkadactyls vs. Road Scholars and the Bella Twins.  Not that this was a marquee match, but there are fans of these wrestlers and divas who may have wanted to see the match. It was advertised pretty heavily on Smackdown and it was just left off without a word to the audience. The fact that there was absolutely no mention of it, doesn't sit well with me.
The event opened with a six-man tag match featuring Randy Orton, Sheamus, and the Big Show vs. The Shield. I thought it was a solid match overall. I was not a huge fan of the ending, but I can say that it was probably the right move for now. Everyone knows Big Show is a great heel. He has put so many other wrestlers over throughout the years, so I don't really blame the WWE for taking the angle that it did in the match. I was hoping to see an Orton heel turn though. I'm hoping we could possibly see it in St. Louis at next month's pay per view.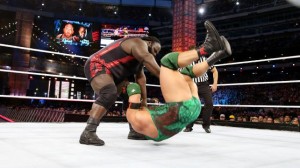 The Ryback vs Mark Henry match was a big letdown. I was expecting a great match. While there were a couple good spots, I was disappointed overall. It appeared the Ryback was hurt when he lifted Henry for his finishing move. He collapsed, only to have Ryback fall on top of him for the pin. But, a few seconds later, Ryback had Henry over his head aging for his finishing move. So, he wasn't hurt. So, why did the WWE go with a botched finish? I'm sure this will lead to a rematch.
I was surprised the Team Hell No got the win over Dolph Zigger and Big E Langston. Langston had to be nervous, making his first WWE in-ring appearance since NXT, but it didn't show. I really thought he did a solid job. The only mis-step of the match was Ziggler missing the Famouser on Kane. I'm predicting a Raw rematch for these two teams.
I thought Fandango looked solid in his debut against Chris Jericho. It was a no-brainer to me that Fandango would get the win. I would say this was another solid wrestling match. Jericho again made a younger up and comer look good. My only criticism of this match would be that it was not really a pay per view quality match, but that can be tied to the storyline, as well.
After the Fandango/Jericho match, we were all treated to a live performance from P. Diddy, or Diddy, or Puffy, or Puff Daddy, or whatever you want to call him. In all honesty this was horrible. I used this moment for a bathroom and a smoke break.
Jack Swagger vs Alberto Del Rio was another so-so performance. Del Rio didn't bring anything new to the table at all, and Swagger delivered a solid performance, but nothing to get overly excited about. I just have to wonder how long Del Rio will hold onto the belt?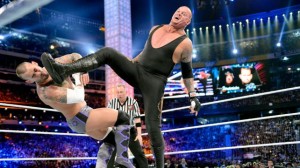 The match of the night was delivered by the Undertaker and C.M. Punk. I was predicting an Undertaker victory the entire time, but boy, did they make the match interesting! I was pulling for Punk the entire time, and it seemed like he was actually going to end the streak at times. Paul Heyman was awesome as Punk's manager. His constant words of encouragement made me want to see Punk win even more. This was not only the match of the night, but so far, the match of the year. Both men delivered top-caliber performances. Taker still has it, and it will be interesting if he returns for WrestleMania 30.
Triple H vs Brock Lesnar was another letdown. Not that it was a bad match, but I am not thrilled with the outcome. First of all, no bloodshed in a no holds barred match is ridiculous. Given the build up to this match, I expected a bit more. Lesnar carried the match, as Triple H looked a bit winded and out of shape. I guess that is what happens when you spend the majority of the year running a company. Having Triple H use the sledgehammer and stairs to get the win was a nice touch, and it did not really take away from Lesnar's image as a monster.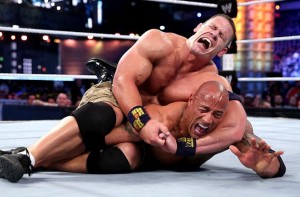 The final match of the night was John Cena vs The Rock for the WWE title. I did not understand the WWE not showing a highlight package before or after the fight. That is usually a staple of WrestleMania. The crowd seemed bored with this match, which I thought was pretty good overall. The Rock had his best performance since returning to the WWE. Cena looked good in the match, as well. I was watching for a Cena heel turn all night and it never happened. That is my main gripe with this match. Cena's character is old and overused.
Overall, the match left a few questions to be answered, if you ask me. Will he make a turn on Raw? Did we see the last of The Rock in a WWE ring? He is turning 41 next month, and his acting career has never been hotter. Also, who will challenge Cena for the belt?  There are rumors that Rob Van Dam could be returning to the WWE. If this happens, perhaps he goes after Cena.
If I had to give WrestleMania a grade, I would give it a C+. I just had hoped for more. It's nearly impossible for the WWE to live up to the expectations of any fan. But, this WrestleMania just seemed rushed and at times thrown together. The next pay-per-view is May 19 in St. Louis.
Click here to purchase tickets to WWE Extreme Rules at the Scottrade Center in St. Louis (May 19).
Photos ©WWE.