'A Place Beyond the Pines' Opens April 12 in St. Louis! Enter to Win Passes to the St. Louis Advance Screening!
Enter to win a pass for two!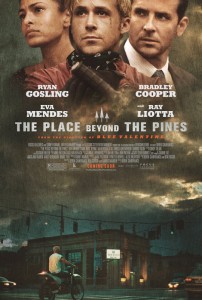 The Place Beyond the Pines is the new movie from the director of Blue Valentine. Luke (Ryan Gosling) is a motorcycle performer. While passing through Schenectady, NY, he learns that a former lover, Romina (Eva Mendes), has given birth to their son Jason. Luke decides to give up life on the road to try and provide for his newfound family. His employer Robin (Ben Mendelsohn) proposes to partner in a string of bank robberies – which will place Luke on the radar of ambitious rookie cop Avery Cross (Bradley Cooper). Avery, who has to navigate a police department ruled by corrupt detective Deluca (Ray Liotta), is also struggling to balance life with his wife Jennifer (Rose Byrne) and their infant son AJ. The consequences of Avery's confrontation with Luke reverberate into the next generation, when the two sons, Jason (Dane DeHaan) and AJ (Emory Cohen), must face their fateful, shared legacy.
Cast: Ryan Gosling, Bradley Cooper, Eva Mendes, Ray Liotta, Rose Byrne, Mahershala Ali, Dane DeHaan, Emory Cohen, Ben Mendelsohn
Director: Derek Cianfrance
In order to enter the contest, "like" ReviewSTL on Facebook . Then comment on the official contest page below, telling us why you can't wait to see the movie! While supplies last. Passes are available on a first-come, first-served basis.
Winners will be chosen at random from all entries. Supplies are limited. Limit one (1) pass per person, passes admit (2) two. Sponsor's employees and their dependants are ineligible. Screening is overbooked to ensure capacity. Please refer to passes for any other possible restrictions. NO PURCHASE NECESSARY.
Screening will take place Wednesday, April 10 at Landmark Tivoli (7pm).