Woody Harrelson "The Messenger" – 2010 Best Supporting Actor Oscar Nomination (Video)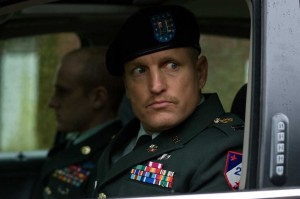 Gritty dramas based around the Iraq War were a popular subject in films in 2009. Dominating the award season is The Hurt Locker. Which means another film based in all of the Iraq War drama has been passed up, The Messenger. Staff Sergeant William Montgomery (Ben Foster) and Captain Tony Stone (Woody Harrelson) are part of the Army's Casualty Notification service. The two men are tasked with telling families about downed soldiers.  The Messenger is a moving drama, with touchy subject material.
This is Woody Harrelson's second Academy Award Nomination. Harrelson was also nominated for The People Vs Larry Flynt in 1996.
Read our review of The Messenger.
Selected Filmography:
2012 (2009) – Charlie Frost
Zombieland (2009) – Tallahassee
Defendor (2009) – Arthur Poppington/Defendor
The Messenger (2009) – Captain Tony Stone
Seven Pounds (2008) – Ezra Turner
Semi-Pro (2008) – Monix
Transsiberian (2008) – Roy
No Country For Old Men (2007) – Carson Wells
A Scanner Darkly (2006) – Ernie Luckman
A Prairie Home Companion (2006) – Dusty
North Country (2005) – Bill White
Do you think Woody Harrelson will win Best Supporting Actor? Let us know in the comments.