The Messenger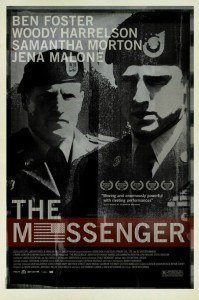 Oren Moverman's The Messenger is a great honest look into the side of war we rarely see, the deceased family dealing with receiving the news of the passing, and the results are a film filled with sadness, anger, and humor surrounding this delicate and vulnerable situation.
The messenger in question is a staff sergeant, Will, who has returned home due to injury and is assigned to finish out his enlistment to deliver death notices to the bereaved families of the local area.  His commanding officer, Tony, has been doing this for years now and is rather good at this potentially troubling work and the two bond over there experiences, clash over lack of experience, and try and deal with the loneliness and issues that surround their military lives.
Now there are plenty of deeply sorrow moments in this film but they are done with class and are dignified recreations of many people's worse moments.   You can't help but be affected by these sequences and the actors involved all do amazing work in that you almost feel like you are watching a documentary on the subject and Moverman's camera work really gives these moments a raw and real feel.  With that said there is a lot more to this picture than trying to depress us as more and more bad news is delivered.  The relationship between Will and Tony is compelling, funny, and always engaging as the two hang out after a day of work and get lost in old war stories, shooting the shit over girls, and are just trying to feel normal in this world again.  That last theme is a common thread touched upon a number of times in the picture and while it doesn't dive head first into the issue and is appropriately addressed as a lot of soldiers have a heard time transitioning back into home life.  We also get an interesting relationship between Will and a bereaved wife, Olivia, which is part romantic urges, part finding complacency, and it is very compelling to see where it ends up going.
Moverman's ability to bounce between all these different moods and themes is incredibly impressive and to thread them all into an engaging and coherent story is even doubly so.  He is also demanding of his actors and gets some great work out of them as he has a number of impressive extended takes that keep us in the picture.  His direction behind the camera keeps us right in the midst of all these scenes, right with all the pain and sadness, and it allows the picture to be even more affective than if it would have taken a more traditional photography approach as opposed to the hand held look we get here a lot of the time.
The actors in this film elevate this film to another level though, as Moverman gives us a fantastic base, but the interactions and moments that come up in this film could easily become completely ineffective if the actors don't sell us on their grief and struggle.  All of the actors playing the bereaved are excellent and capture the pain, misery, and other range of emotions involved in that horrible moment.  The biggest stand out of these is Steve Buscemi as a father takes the path of anger towards the two messengers and it allows for not only a great turn by the great actor, but gives Woody Harrelson as Tony and Ben Foster as Will some great material as they have to sit there and take this abuse as it is part of their job description.  Harrelson steals the show here and is fantastic as Tony and deserves all the awards buzz he has been getting through this awards season.  Funny and conflicted, he also carries himself wonderfully when delivering news and shows us this completely other side of him when the two aren't on the job.  Harrelson continues to show that he is one of the most underrated actors working today and we need more of him than we get.  Ben Foster also continues to show that he is one of the best young actors of the day and is fantastic as well as the rookie Will.  He really shines when he finally tells his story about what happened and the scene as a whole says so much about both of these guys, Tony and Will.  Samantha Morton is very good in the picture as well as Olivia and captures the awkwardness of Will's relationship with her and is also very real in her portrayal as a now single mom that is not necessarily shattered by the loss of her husband.  Lastly, Jena Malone is quite good as usual as well in her two brief appearances as Will's old girl who isn't exactly waiting for him when he comes back; she also shows off her sexuality as well which was a bit weird as she has always been viewed as a kid in her movies and she does a great job in her brief moment of baring it all and grows up her persona a bit as well.
In the end, The Messenger is a wonderful and honest film that is a fantastic actor's showcase and a wonderful debut from Oren Moverman.  The film will run you through the gauntlet of emotions and have you feeling like you are right along with our two leads as they deliver the worst news some people will ever hear.  The true to life feel achieved through great acting and direction is one of the finer achievements of the year in cinema and might get some deserved Oscar recognition.  Seek this out if it is still playing around you, and if not save it in your Netflix queue now so you get it whenever it drops on Blu-ray.
The Messenger is an A-