Best Supporting Actor 2010 – Matt Damon in "Invictus"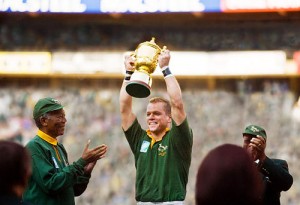 This year at the 82nd Annual Academy Awards, Matt Damon will be up for the award for best supporting actor in "Invictus."

This is Damon's third Oscar nomination. He has been nominated best actor in a lead role, and won the Oscar for Best Writing, Screenplay Written Directly for the Screen (Good Will Hunting, 1997).
This is Matt Damon's first Oscar nomination for best actor in a supporting role.
In "Invictus," Matt Damon plays the captain of South Africa's rugby team, Francois Pienaar.  Newly elected President Mandela knows his nation remains racially and economically divided in the wake of apartheid. Believing he can bring his people together through the universal language of sport, Mandela rallies South Africa's underdog rugby team as they make an unlikely run to the 1995 World Cup Championship match.
Here is what Matt Damon has been up to over the past decade:
Invictus  (2009) …. François Pienaar
The Informant! (2009) …. Mark Whitacre
Gake no ue no Ponyo (2008) (voice: English version) …. Koichi
Che: Part Two (2008) …. Fr. Schwartz
Youth Without Youth (2007) (uncredited) …. Life Magazine Reporter
The Bourne Ultimatum (2007) (also archive footage) …. Jason Bourne
Ocean's Thirteen (2007) …. Linus Caldwell
The Good Shepherd (2006) …. Edward Wilson
The Departed (2006) …. Colin Sullivan
Syriana (2005) …. Bryan Woodman
Magnificent Desolation: Walking on the Moon 3D (2005) (voice) …. Al Shepard
The Brothers Grimm (2005) …. Wilhelm Grimm
Ocean's Twelve (2004) …. Linus Caldwell
The Bourne Supremacy (2004) …. Jason Bourne
Jersey Girl (2004) …. PR Exec #2
EuroTrip (2004) …. Donny
Stuck on You (2003) …. Bob Tenor
The Bourne Identity (2002) …. Jason Bourne
Confessions of a Dangerous Mind (2002) …. Matt, Bachelor #2
The Third Wheel (2002) (uncredited) …. Kevin
Spirit: Stallion of the Cimarron (2002) (voice) …. Spirit
Gerry (2002) …. Gerry
The Majestic (2001) (voice) …. Luke Trimble
Ocean's Eleven (2001) …. Linus Caldwell
All the Pretty Horses (2000) …. John Grady Cole
Finding Forrester (2000) …. Steven Sanderson
The Legend of Bagger Vance (2000) …. Rannulph Junuh
Titan A.E. (2000) (voice) …. Cale Tucker
Do you think that Matt Damon will win the Oscar for Best Supporting Actor? Who do you think will win? Leave a comment below!