Jeremy Renner "The Hurt Locker" – 2010 Best Actor Oscar Nomination (Video)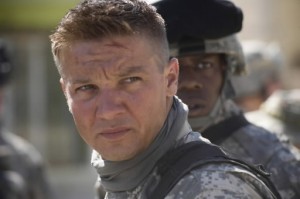 Jeremy Renner is enjoying his first Academy Award nomination with Kathryn Bigelow's The Hurt Locker. Renner plays Sergeant First Class William James who is the slightly reckless leader of an EOD (Explosive Ordnance Disposal) unit, and follows him and his crew who are winding down their last days of their tour in Iraq. This tense drama details the trials and tribulations of a bomb disposal unit working in the war torn Iraq.
Read our review of The Hurt Locker here.
Selected Filmography:
The Avengers (2012) – Hawkeye/Clint Barton
The Hurt Locker (2009) – Sergeant First Class William James
The Assassination of Jesse James By The Coward Robert Ford (2007) –  Wood Hite
28 Weeks Later (2007) – Doyle
North Country (2005) – Bobby Sharp
S.W.A.T. (2003) – Brian Gamble
Do you think Jeremy Renner will win Best Actor? Let us know in the comments!