Colin Firth "A Single Man" – 2010 Best Actor Oscar Nomination (Video)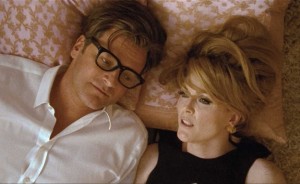 Veteran British Actor is up for his first Academy Award nomination for the Tom Ford directed picture, A Single Man. Set in 1962 A Single Man tells the story of George Falconer an openly gay professor who is dealing with the death of his partner, Jim (Matthew Goode).  The film is told through a single day of Falconer's life. Much of the story is told through flashbacks, as George prepares for his suicide later that night. Along the way he says goodbye to his best friend, the socialite Charley (Julianne Moore). He also makes a new acquaintance with gay student Kenny Potter (Jon Kotajarena). All of these people help him realize the meaning of his life. The film is directed by first time director Tom Ford, who uses his experience as a fashion designer to add unique visual flourishes to the film.
Read our review of A Single Man.
Selected Filmography:
A Christmas Carol (2009) – Fred
A Single Man (2009) – George Falconer
Mamma Mia! (2008) – Harry
Nanny McPhee (2005) – Mr. Brown
Bridget Jones: The Edge of Reason (2004)  – Mark Darcy
Love Actually (2003) – Jamie Bennett
Girl With a Pearl Earring (2003) – Johannes Vermeer
What A Girl Wants (2003) – Henry Dashwood
The Importance of Being Earnest (2002) – John 'Jack' Worthington
Bridget Jones Diary (2001) – Mark Darcy
Shakespeare in Love (1998) – Lord Wessex
The English Patient (1998) – Geoffrey Clifton
Do you think Colin Firth will win Best Actor? Let us know in the comments!